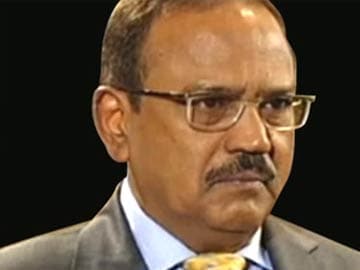 New Delhi:
India considers China an important neighbour and wants good relations but not at the cost of her "territorial integrity," National Security Advisor AK Doval said today.
In September, the armies of the two countries were engaged in a face-off in Chumur in South-Eastern Ladakh for about two weeks. The border in the area is not defined and both countries lay claim to the same stretch of land.
In his address to a security conference in New Delhi, Mr Doval also referred to the Chinese aggression in the South China Sea, albeit indirectly. India, he said, wants sea lanes to be free from interference. The major countries have to ensure that "freedom in sea lanes of communication is not disturbed," he said.
But more than China, "Our immediate neighbourhood is the problem," he said, in a broad hint at Pakistan. "We have terrorism and certain tendencies that are not conducive for the region," he said. But indicating that India may consider reviving dialogues with Pakistan in the near future, he said, "No issue is so big that (it) cannot be resolved through peaceful methods, talks and negotiations."
The NSA, however, clarified that India will continue to maintain an "effective deterrence capability".
Hinting that India might try to isolate Pakistan in the global community, the NSA said the time has come for the UN to come up with a convention on terrorism.
In 2001, India's efforts to come up with a UN Convention were successfully thwarted by Pakistan. It had insisted that an UN Convention on terrorism should not apply to freedom fighters and that terrorists operating in Jammu and Kashmir were "freedom fighters".
Mr Doval said terrorism should be defined without linking it to "causative factors". The international community should not be concerned about the causes. "Can you resort to violence or terror even if you are fighting for the cause of child rights?" he said.
Thirteen years after the global war on terror started, terrorism has morphed and poses a graver threat, he said.
Seeking more involvement and responsibility from the global community, the NSA said the proposed UN Convention on Terror should define actions of the states. "Should something happen, there should be a collective response," the NSA added.