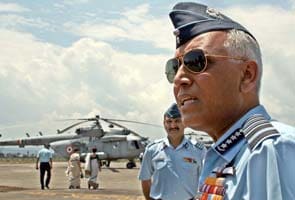 New Delhi:
SP Tyagi, who headed the Indian Air Force from 2004 to 2007, was interrogated today by Central Bureau of Investigation or CBI officials for allegedly accepting kickbacks from helicopter manufacturer AgustaWestland (AW), which landed a deal with India worth nearly 4,000 crores in 2010.
The retired air force chief has denied any wrongdoing.
But the CBI, assigned to investigate the deal last month, has indicated that early enquiries have furnished evidence against the former air force chief and his three cousins, Julie, Rajiv and Dosca Tyagi.
The Tyagis were first named by Italian prosecutors when they arrested the CEO of AW's parent company, Finmeccanica, last month for paying bribes at home and abroad. An alleged middleman for Finmeccanica, Guido Haschke, said that 100,000 euros or 720 lakhs were paid in cash to the former air chief's cousins, and that some of these funds were transferred later to him.
The Italian enquiry says that the air force chief and other Indian officials rearranged the tender for the helicopter deal in 2006 so that AW would beat competing manufacturers. Air Chief Marshal Tyagi was then in the midst of his term.
He has pointed out in his defence that the contract was signed three years after he retired.