New Delhi:
Highlights
#VikasGoneCrazy won't hurt BJP, we get social media games: union minister
"Rahul Gandhi coming of age at 50?": union minister on the big promotion
"Vikas Gone Crazy" won't hurt BJP, we know social media: union minister
As Rahul Gandhi prepares to take on the top job in his party, union minister Jitendra Singh told NDTV the promotion is unlikely to reverse the Congress' losing streak. "Don't you think 50 is too old to be coming of age?" Mr Singh, who is a minister in the Prime Minister's Office, told NDTV.
Mr Singh is off by three years - Mr Gandhi turned 47 in June.
He is expected to replace his mother, Sonia Gandhi, as Congress chief by the end of the month
. This week, he has been campaigning in Gujarat, the home state of Prime Minister Narendra Modi and BJP chief Amit Shah.
The BJP has ruled Gujarat uninterrupted for nearly two decades. In an attempt to break that pattern, Mr Gandhi has in his speeches asked people to hold the PM accountable for an economic slowdown and for
a paucity of jobs for the country's young workforce
. His party is also heavily citing a social media campaign that declares "
Vikas Gando Thayo Che
" (development gone crazy), which mocks the BJP's famous and stated focus on progress and development, to glaze its own claims against the PM.
Mr Singh, who is assigned to manage the BJP's bid for Gujarat, said the wildfire spread of the slogan hasn't disturbed his party. "It's okay," he told NDTV today. "The Congress is trying to catch up. It was the BJP which always used new trends in elections. In fact, in the early days it was a BJP man, the founder of Jain TV, who would make and use videos in elections."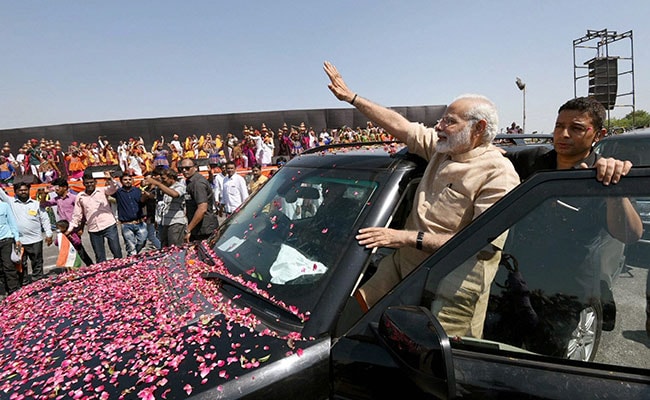 PM Modi has begun campaigning for his party in his home state and visited it last week.
The BJP has 121 of 182 seats; the BJP President has declared Mission 150, urging party workers to ensure that they "prove their gratitude to the Prime Minister" by increasing their existing count. Though the BJP has not named its presumptive Chief Minister, it has said the election will be run by incumbent Vijay Rupani. The Congress, which has 57 seats, has not named its Chief Ministerial candidate. Of the 57, 14 legislators have defected or quit recently.
In what was seen as a big concession to Gujarat ahead of the election, the new national Goods and Services Tax or GST was reduced on items important to the state's traders - the savoury khakra snack and man-made yarn, for example. The changes, Mr Singh said, do not corroborate the allegation that the GST was hurriedly introduced, causing chaos among small traders. "The fact that we've changed our GST schemes, doesn't mean that they were wrong to begin with. It just means that we are a government which listens to feedback," the minister said.
The BJP's problems in Gujarat include a new hostility from the powerful Patel or Patidar community, which backed the party for years, but now says it has been left out of affirmative action schemes which has weakened its standing and the prospects of its youth. HardIk Patel, the community's young leader, has mobilised a movement against the BJP and is seen as a likely helping hand for the Congress.
Follow NDTV for latest election news and live coverage of assembly elections 2019 in Maharashtra and Haryana.
Subscribe to our YouTube channel, like us on Facebook or follow us on Twitter and Instagram for latest news and live news updates.