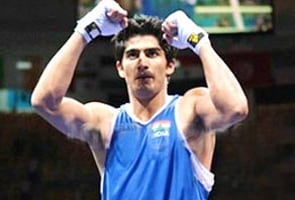 Chandigarh/New Delhi:
Boxing icon
Vijender Singh
, accused of using heroin, might be questioned again, say Punjab Police. HS Mann, the SSP of Fategarh Sahib, told NDTV that Vijendra Singh may be summoned again for questioning depending on what turn their investigations take.
Mr Mann also said that Vijender's sparring partner, Ram Singh, who was arrested yesterday, will be produced at the Fategarh Sahib court and the police will ask for his custody to be extended.
Police also say that they will move to seek blood and hair samples of Vijender separately to aid their own investigations. The boxer had submitted blood and urine samples yesterday to the National Anti-Doping Agency or NADA.
However, those tests may not help ascertain if the boxer consumed heroin. The drug does not last for more than 12 hours in blood and three days in urine samples. Only a hair sample of Vijender's can now prove whether he took heroin or not, since traces of the drug can be found in hair for upto three months. NADA, however, says it does not have the facility to test hair samples.
Ram Singh has said that the boxers bought heroin from Anoop Singh Kahlon, an alleged dealer who was arrested last month in Punjab. Drugs worth 130 crores were found in his home. Vijender's wife's car was parked outside.
On Sunday, the Punjab Police said Vijender, an Olympic bronze-medallist boxer, took heroin 12 times, but did not explain how it had concluded this.
Vijender has strongly denied any link to the drug dealer and has slammed as "ridiculous" the allegations against him.
The Sports Ministry on Monday said in a statement that it ordered NADA to carry out immediate tests on Vijender "for his reported use of heroin even out-of-competition."
Officials from NADA had earlier said Vijender was unlikely to be penalised since any drug use was done out-of-competition.
"Vijender is not training for any competition these days, so he cannot be penalised," said NADA officials.
Vijender failed to win a medal at the London Olympics last year after he was defeated in the quarter-finals.