Patna:
Highlights
Ashok Choudhary not invited to Rahul Gandhi's meet on Bihar
He is president of Congress in Bihar, tells NDTV he's "very hurt"
Has support of 18 of 27 Congress lawmakers, could split party
As Rahul Gandhi meets legislators from Biha
r from his party in Delhi, there's an elephant in the room - the absence of Ashok Choudhary who heads the Congress in Bihar.
"I'm not sure why I am being sidelined like this," Mr Choudhary said. Speaking to ndtv.com in Patna, he described himself as hurt at not being invited to the talks that hope to stave off a split in the Congress, increasingly dissolute since it found itself laid off from running the state of Bihar by former ally and Chief Minister Nitish Kumar in July.
Mr Choudhary, 49, may not have been asked to come to Delhi by Mr Gandhi, but he was certainly a hot topic with the
Congress boss reportedly asking a group of 10 legislators
what they make of him and whether he should be removed as President of the Bihar Congress, a position he has held for four years. Party sources said Mr Choudhary's departure appeared imminent. During the interaction, Mr Gandhi gave ample hints that he is very hurt with Mr Choudhary's reported move to engineer a division in the legislature party and he even discussed a few names as his successor, they said.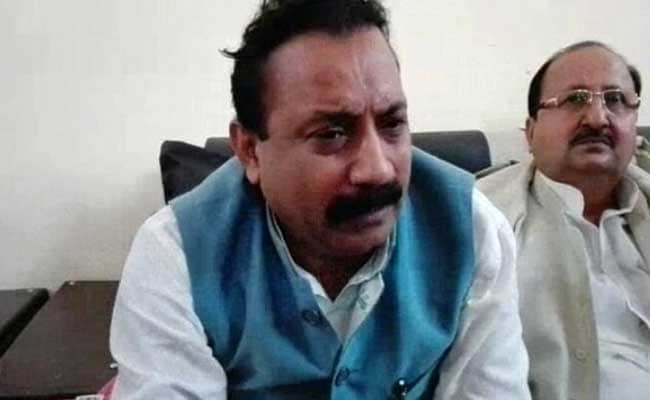 Sources say that several of the legislators who met with Mr Gandhi leapt to Mr Choudhary's defense, attributing the party's collection of 27 seats in the last election to his leadership. But reports of Mr Choudhary's exasperation with the top of the Congress pyramid in Delhi have been proliferating and there are enough Congress legislators in Bihar who in private vouch for his interest in exiting the party.
Cue Mr Choudhary's vigorous denial. "My father was in this party for 50 years till his death and I'm here for the last 25 years," he said. Defending his record, he said, "During my president-ship, the number of MLAs went to 27 from 4 in the state assembly. In the legislative council, we had zero, now we have six members."
In 2015, as it became clear that Prime Minister Narendra Modi, fresh off the success of his huge general election victory, would lead the BJP's campaign to displace Mr Kumar as Chief Minister, he began hunting for a shape-shifting alliance. Mr Choudhary was credited with a role in maneuvering the Congress to the table, along with Lalu Yadav. The three stake-holders named themselves the "
Maha-Gathbandhan
" or Grand Alliance. Their combined support groups proved more than effective in defeating the BJP.
Mr Choudhary became Education Minister in the coalition government and his easy rapport with the Chief Minister was visible. He says that's partly why a group of leaders "who defected to the Congress from other parties in Bihar" began spreading the word that he was encouraging, if not actually engineering, about 20 defections from the Congress to Mr Kumar's party.
His aides say his unease with the Congress' Delhi leaders assigned to handle Bihar - people like CP Joshi and Ghulam Nabi Azad - has enabled rivals within the party to position him as far removed from a team player, a man whose ambition to return to power by joining another side, if needed, could serve as contagion within the Bihar Congress.
Of its 27 legislators, 18 allegedly are willing to side with Mr Choudhary, if needed, against the party's famous "high command." He says it will not come to that. "If I am removed (as president), I will be really disappointed and hurt ..But my loyalty remains with Rahul-
ji
and the Congress party and it's up to them to decide whether they want me or not," he said.
He has in recent months not been circumspect about his reservations of the Congress' continued attachment to Lalu Yadav, who enjoys the trust of party boss Sonia Gandhi. When the
Maha-Gathbandhan
was formed, Mr Choudhary was credited with fighting hard to win 40 seats for his party to contest, trumping Lalu Yadav who wanted to confine the quota to 25. Once the government was formed, Mr Choudhary, like other Congress leaders, believes he was often treated with disrespect by Lalu Yadav. His conviction in a corruption case banned him from being part of the government, but he was a power player of no small stature, controlling a total of eight ministries that were assigned to his two sons.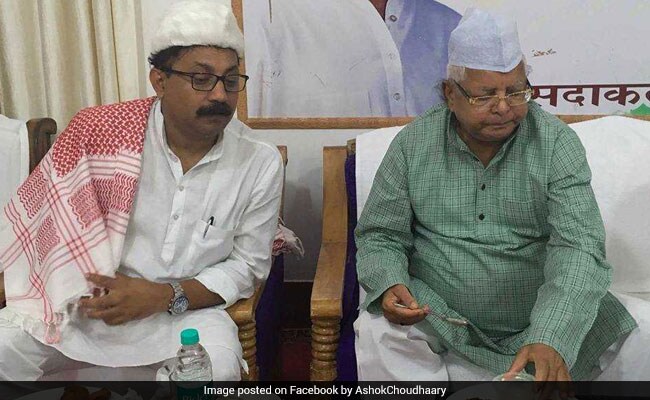 This year, as the length and breadth of corruption cases against Lalu Yadav and his children expanded, the Chief Minister began looking for a way to disengage. In July, he dumped the Congress and Lalu Yadav; the BJP was waiting to replace them in the government. As the
Maha-Gathbandhan
dissembled, Mr Choudhary rushed to Delhi to meet Mr Gandhi, but was kept waiting for three days, a delay read as a deliberate insult by him and the Bihar legislators loyal to them.
A week ago, Mrs Gandhi along with top Congress leaders met with Mr Choudhary. He was allegedly told off for inciting legislators against Lalu Yadav and urged to accept the need for the Congress to remain partnered with anti-BJP "secular" parties. His exclusion from yesterday's meeting called by Rahul Gandhi suggests he has fallen out of favour with the party's First Family at a time when it is trying to scrub out the possibility of splits in not just Bihar but Himachal Pradesh after a healthy portion of its legislators quit its membership in Gujarat.
Mr Choudhary's faction -and it clear that there is one- urged Rahul Gandhi today to lose Lalu Yadav who they say is costing them heavily in public perception. They say they were heard patiently, but offered no assurances.
Follow NDTV for latest election news and live coverage of assembly elections 2019 in Maharashtra and Haryana.
Subscribe to our YouTube channel, like us on Facebook or follow us on Twitter and Instagram for latest news and live news updates.