Patna:
Highlights
Most of Congress' 27 lawmakers in Bihar considering split: sources
Rahul Gandhi meets with some of them in Delhi
Lalu Yadav an ankleweight, must ditch him, they tell him
Rahul Gandhi has met with a group of his party's legislators
in Bihar who are rumoured to be readying to ditch the Congress. The meeting that was held yesterday in Delhi reportedly saw 11 law-makers from Bihar warning their leader that the Congress must abandon old ally and regional heavyweight Lalu Yadav or risk further disinterest among voters.
The Congress has 27 lawmakers or MLAs in Bihar; of them, about 19 want out. Barely a week ago, their representatives met with Mr Gandhi's mother and Congress chief Sonia Gandhi in Delhi. She stressed to them that it's imperative for the Congress to remain fastened to parties and leaders like
Lalu Yadav who are committed to fighting the BJP's right-wing ideology.
The Gandhis have a reputation for being a little difficult to access by state legislators - the fact that they've made time separately and just days apart to hear the complaints of their Bihar branch telegraphs that the possibility of a split in the party has breached the danger mark.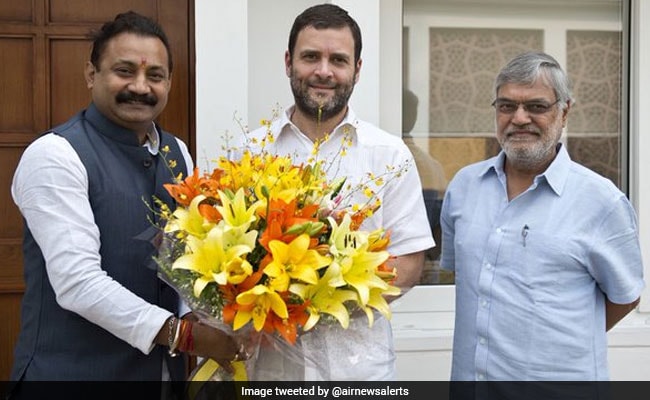 Mr Gandhi met with 11 lawmakers at his Delhi residence yesterday. Today, he is expected to confer with another ten. Six have refused to travel to Delhi; they say they're working in their constituencies which have been ravaged by floods, but privately admit to playing hardball.
Ashok Choudhary, who heads the Congress in Bihar, is not a member of the delegations which will heighten talk that he wants to disengage with the Congress and is working on taking many legislators with him. In July,
he was kept waiting for three days by Mr Gandhi
at a time when the Congress had been ditched, along with Lalu Yadav, by Bihar Chief Minister Nitish Kumar.
Using a corruption case filed by the CBI against Lalu Yadav as break point, the Chief Minister scissored the alliance referred to as the
Maha-Gathbandhan
which combined his party with the Congress and Lalu Yadav; he then formed a new government with the BJP.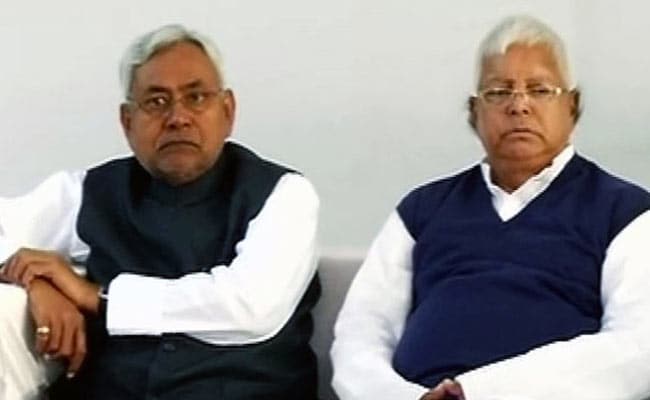 Lalu Yadav and his children are now named in a score of corruption cases; they say this is Prime Minister Narendra Modi's way of punishing them for their sustained campaign against him, a claim backed by the Gandhis and other opposition leaders like Mamata Banerjee.
But a growing faction of the Congress in Bihar believes privately that the party's association with Lalu Yadav eats large chunks into its credibility at a time when its standing has been greatly diminished by electoral losses. Those who attended yesterday's meeting in Delhi said that Mr Gandhi gave them a patient hearing and offered little feedback.
Some legislators openly called for terminating the association with Lalu Yadav, who was told today by the CBI that he must appear for questioning on Tuesday to explain allegations that he used his earlier term as Railways Minister to award lucrative contracts to private companies that thanked him with kickbacks that were eventually converted into a plush real estate portfolio for his family. Other MLAs told Mr Gandhi that the Congress must reinvigorate its grassroots workers and, if needed, revive an alliance with Lalu Yadav only if it feels it needs him closer to the time of the next state election.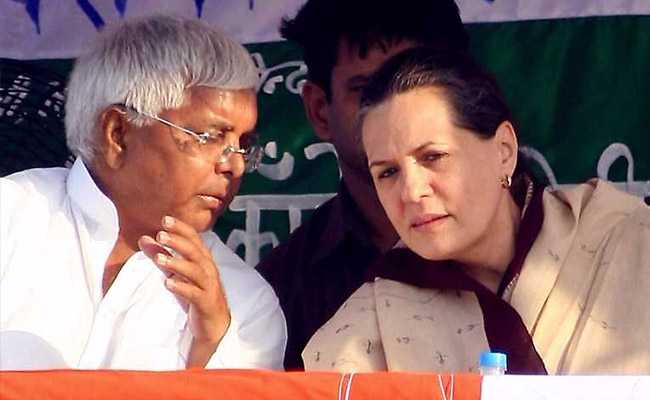 Lalu Yadav is a long-time supporter of Sonia Gandhi; he was among the early proponents of the need for her to lead the Congress after her husband and former prime minister Rajiv Gandhi was assassinated. But in Bihar, his home turf, the local leaders of the Congress feel his allure has not endured. It is why they urged Mr Gandhi not to attend the anti-PM Modi rally that he held last month in Patna which was addressed by Ms Banerjee, the Chief Minister of West Bengal, and other opposition leaders. The Gandhis heeded the advice of the Bihar Congress, and did not appear, choosing instead to send a representative to the event, a move that offended Lalu Yadav.
Follow NDTV for latest election news and live coverage of assembly elections 2019 in Maharashtra and Haryana.
Subscribe to our YouTube channel, like us on Facebook or follow us on Twitter and Instagram for latest news and live news updates.