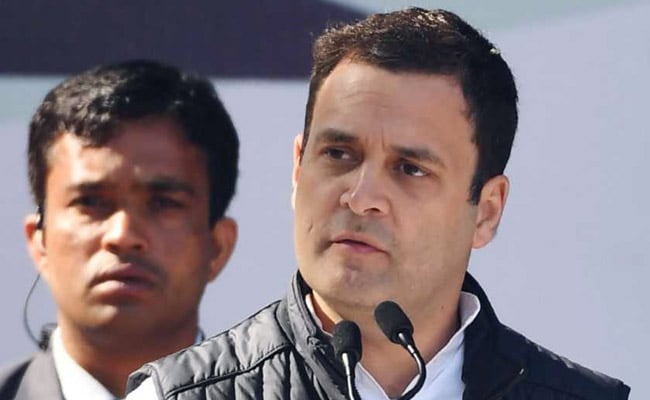 New Delhi:
Rajya Sabha Chairman M Venkaiah Naidu today sent a privilege notice against Rahul Gandhi to Lok Sabha Speaker Sumitra Mahajan for further action, holding that "prima facie there is an issue of privilege", sources said.
Mr Naidu sent the notice to the Lok Sabha speaker for further action as Mr Gandhi is a member of the Lower House. A complaint against Mr Gandhi is already pending before the Ethics Committee of the Lok Sabha, chaired by BJP veteran L K Advani, after the speaker forwarded the same to it.
BJP leader and Rajya Sabha member Bhupinder Yadav had given the privilege notice against Congress President Rahul Gandhi over a tweet put out by him in which he questioned the authority of the Rajya Sabha and questioned its decision.
"On examination, prima facie there is an issue of privilege," Mr Naidu said while referring the privilege notice to the Lok Sabha speaker, the sources told PTI.
Mr Yadav had alleged that there is a "breach of privilege" by Mr Gandhi as he used derogatory words against Finance Minister and Leader of the House Arun Jaitley, by twisting his name.
"Dear Mr Jaitlie - thank you for reminding India that our PM never means what he says or says what he means. #BJPLies," Mr Gandhi said, while putting out a video of the prime minister's speech against his predecessor and Mr Jaitley's remarks made in Rajya Sabha.
The BJP member said the Congress President had "deliberately twisted" the spelling of Mr Jaitley's surname to 'Jaitlie', which was "highly derogatory".
The Congress president, Mr Yadav said, has deliberately misinterpreted the proceedings of Rajya Sabha in order to "malign the government, which constitutes an affront to the dignity of the House".
He also alleged that it is a deliberate attempt at vitiating the political atmosphere of the country.
Mr Yadav had earlier sought to know what action was being initiated against Mr Gandhi on his privilege notice, over which Mr Naidu told the members in the House that the same was under his examination and he would take a view on it at the earliest.