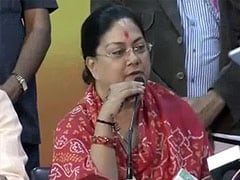 Jaipur:
Rajasthan Chief Minister Vasundhara Raje will be sending a printed congratulatory message to parents of newly born girl children in the state to encourage them.
The message was released by Raje at her official residence here which will be given in a printed form to the parents of girl child born in division level government hospitals from October 11.
The arrangement will be made in other hospitals from Children's Day on November 14.
Raje said that girls are not behind in any field and they should be given a good atmosphere so that they can show and develop their talent.
Health Minister Rajendra Rathore, brand ambassador of "Save the Girl Child" in the state Diya Kumari and senior officers were present at the launch, a release said.