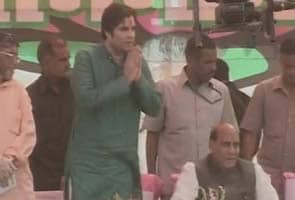 Lucknow:
With every national party trying to lure young voters by highlighting young leaders, Varun Gandhi takes centrestage for the BJP today in the politically strategic state of Uttar Pradesh.
The 33-year-old, dressed in a green kurta, addressed a rally in Bareilly in Western Uttar Pradesh today. He was accompanied by BJP president Rajnath Singh.
"Rajnath Singh has been made BJP president for the second time. This is very rare. We have to win the Lok Sabha election under his leadership," he said.
Showering praise on the young Gandhi, the BJP president said, "The party's reins should be in the hands of the youth. He will have to meet the youth across the country and convince them to connect with the party."
Thousands of people have gathered to hear Mr Gandhi speak; his face has been replicated on masks that can be seen in the crowd, normally the USP of Narendra Modi, the man who is expected to lead the BJP in its campaign for the national election.
Varun Gandhi's growing stature within the BJP - he was recently promoted to General Secretary - has been facilitated by a court ruling last month that said he was not guilty of delivering hate speeches during his campaign in the last national election when he contested and won the constituency of Pilibhit.
"I am grateful to Mr Rajnath Singh for giving me this responsibility," Mr Gandhi said today.
The BJP in Uttar Pradesh currently has 10 of the state's 80 Lok Sabha seats.