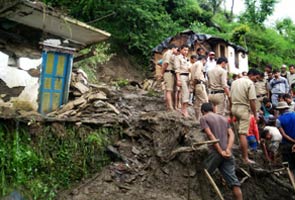 New Delhi:
The Supreme Court today asked the National Disaster Management Authority (NDMA) to apprise it within two weeks about the status of rescue operations in rain-ravaged Uttarakhand.
"NDMA to file an affidavit on the status of rescue operations within two weeks," a bench headed by Justice A K Patnaik said.
Meanwhile, the Uttarakhand government informed the court that pilgrims who were stranded in the various affected areas of the state have been evacuated.
It said that only natives, who didn't want to move out, were there.
The bench posted the matter for further hearing on July 26.
The court was hearing a PIL filed by lawyer Ajay Bansal, who has sought the Supreme Court's directions to the Centre and the state government to rescue people stranded in the flood- hit areas in Uttarakhand.
Earlier, the court had directed the Centre and the state to make all-out efforts to rescue the stranded people and to provide them with food and drinking water.
It had also asked the authorities to deploy sufficient number of helicopters for rescue operations. The Centre and NDMA should provide all required resources to the state government, it had said.