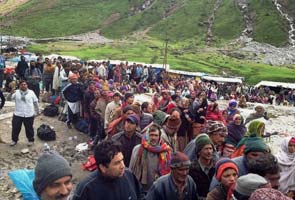 New Delhi:
With hundreds feared dead in Uttarakhand and more than 60,000 people still stranded in the state after torrential rain and landslides, the Supreme Court today ordered the central and state government to spare no effort to rescue people.
The court has asked for a report by Tuesday on the government's efforts.
More than 150 people have been declared dead so far, but on Wednesday, the Prime Minister warned that the death toll will run high. Many parts of the state are cut off from rescue teams after roads caved in and bridges collapsed.
(Read)
The rescue operations have turned into the army's largest ever - 8,500 soldiers, 30 air force aircraft, and 12 army helicopters are being used, along with teams from the National Disaster Response Force which have also been deployed.
(Full Coverage)
The disaster, described as a "Himalayan tsunami" by the state's chief minister Vijay Bahuguna, was precipitated by a ferocious monsoon that arrived two weeks earlier than expected, as thousands of pilgrims were travelling to four religious sites in Uttarakhand.
"We estimate more than 1,000 people have died as unattended bodies are scattered all around," said Ganesh Godiyal, chairman of a trust in charge of several shrines in the holy towns of
Kedarnath
and Badrinath.
Today, the military operation is concentrating on reaching the worst-hit Kedarnath temple area.
"The entire area is destroyed. Nothing is left," lawmaker Shaila Rani Rawat from Kedarnath told news agency AFP.
Local officials said 40 relief camps have been set up to house evacuated residents and tourists. Some 18 air force helicopters are ferrying many of those rescued to the camps.
Soldiers from the Indo-Tibetan Border Police have been building rope and log bridges across raging rivers to try to reach those stranded.
In New Delhi, the Yamuna river is swirling close to a level last recorded in 1978 when flash floods inundated parts of the national capital.
(Read)