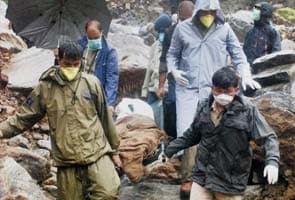 Dehradun:
With rescue efforts now winding up, the focus in Uttarakhand has now shifted to the disposal of hundreds of unclaimed bodies and the accompanying fear of an epidemic outbreak.
While the process of cremation is on, hundreds of bodies still lie unattended in the open near the near the
Kedarnath
temple which was hit by a massive wall of water in the flash floods that struck the state two weeks ago. Lying under tonnes of debris, the decaying bodies are now posing a massive health hazard.
"There are 500-600 bodies which are visible, not only in
Kedarnath
area, but also in the entire state," Chief Minister Vijay Bahuguna said on Sunday. "A number of bodies are stuck in the buildings where they were living but for them (to be extricated) you require some machines. Some JCB machines are being made available," he added.
A 200-strong-team of specialists has been deployed to scour the worst-hit temple region of Kedarnath for bodies. Rescue workers also have recovered bodies in rivers hundreds of kilometres downstream from the flood zone.
The situation, though, has been aggravated by animal carcasses that are also lying unattended; a large number of mules and horses, used to ferry pilgrims to the holy shrines of Kedarnath and Badrinath, also perished in the flash floods.
The state government has requested the Centre for 100 tonnes of bleaching powder to help dispose of the carcasses.
(Read)
Central health ministry teams have been sent to all 13 districts of Uttarakhand, but no threat of epidemic has been detected as of now. Three central public health teams have also been posted to the state and are deployed in the affected areas of Chamoli and Joshimath.
While nearly 1,000 people have reported to have died, the toll is expected to rise considerably. "We will never know the exact number of those dead and the number of people who have been buried or washed away," Mr Bahuguna has said.
(Read)