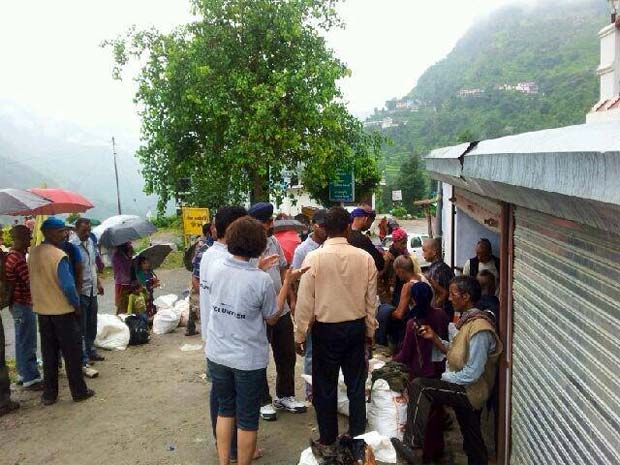 If you would like to help the Uttarakhand flood victims, cheques or demand drafts can be drawn in the name of "The Hope Trust".
The bank details are as below:

Account name: The Hope Trust
Bank Name: Syndicate Bank
Bank Account No: 90492010067832
Branch Address: No 2, Kaushalya Park, Hauz Khas, New Delhi - 110016
Mail cheques or demand drafts can be sent to the following address:
The Hope Trust
207, Okhla Industrial Estate
Phase III, New Delhi - 110020
Phone Number: 011-46176300
e-mail Id: anoop@ndtv.com
Additional details for online transactions:
IFSC Code: SYNB0009049
MICR Code: 110025019
Branch Code: 009049
Please share the details after you have made the donation to anoop@ndtv.com, along with your complete address and PAN Card no, enabling us to send a 80G tax exemption receipt of your donation.
(
Since The Hope Trust is not registered with FCRA we cannot accept foreign donations. We accept donations from Non-Resident Indians with valid Indian passport, only through any bank account operational in India. Contributions made by a citizen of India living in another country, from his personal savings, through the normal banking channels, is not treated as foreign contribution
)
NDTV is partnering with the Uday Foundation to assist in relief efforts in Uttarkhand. Please scroll below for a list of items you can donate.
School stationery including
Colouring pencils, crayons & markers
4 line copy- English
2 line copy - Hindi
Square copy- Maths
Sets of 10 pencils
Erasers
Sharpeners
Glue
Lunch Box & Water Bottles
School Bags
DROP-OFF ADDRESS:
Uday Foundation
91A (Near Airtel), Adhchini,
Sri Aurobindo Marg, New Delhi 110017
Phone: + 91-11-2656 1444 / 333
Contact person: Neha Bagga