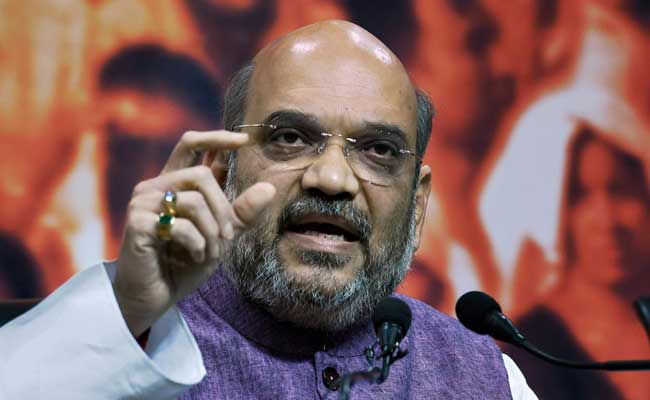 Highlights
24 dead in Mathura last week as police evicted cult from public land
UP votes next year, Mathura riot leads to political fencing
BJP says it will launch campaign to stop land-grabbing
Lucknow:
The Uttar Pradesh government is run by six Chief Ministers, said BJP President Amit Shah today, suggesting the excess of leaders has not prevented an "insensitive" administration. He did not take names, but his allusion was to the relatives of Chief Minister Akhilesh Yadav including uncles who are part of his government - and his father, Mulayam Singh Yadav, chief of the Samajwadi Party or SP.
Mr Shah said the SP is to blame for last week's
fatal clashes in the town of Mathura
over a cult that had illegally occupied a large public park. Two senior police men were among the 24 who died.
The BJP, Mr Shah declared, will launch a campaign to prevent land-grabbing in the state. "We will advertise an email ID tomorrow itself and whoever complains we will take up their case," he offered.
Uttar Pradesh votes next year; the result will be seen as a key indicator of who will be Prime Minister in 2019.
The imminent launch of campaigning has meant that the violence in Mathura has quickly been mined to assign political blame.
1,000 police men who entered the
270-acre Jawahar Bagh
on Thursday evening were easily and alarmingly over-run by nearly 3,000 members of a cult that had occupied the land since 2014. The cult was armed with grenades, sophisticated automatic weapons, swords. When its ammunition ran low, it set gas cylinders on fire; its chief, Ram Vriksh Yadav, died in one of those explosions, the police has said.
Chief Minister Akhilesh Yadav has said that the police was under-prepared; a report sent to the centre has blamed local administration as well. But the BJP has repeatedly said that the Chief Minister's uncle, Shivpal Yadav, must explain reports of covert patronage to the cult, which was a splinter group of a sect headed by a leader named Jai Gurudev who the minister was known to be close to.
Shivpal Yadav
has said the BJP must offer evidence of its charges or apologize to him.
The BJP has also said that the Chief Minister's pandering to his Yadav caste has led to their disproportionate induction in the police, which is why the cult, also dominated by Yadavs, was allowed to convert Jawahar Bagh into a vast township with its own army, jail and pseudo-government.
Javed Ahmed, the chief of the state police force, has ceded that the cult amassed its vast supplier of weapons without attracting the attention of officers.