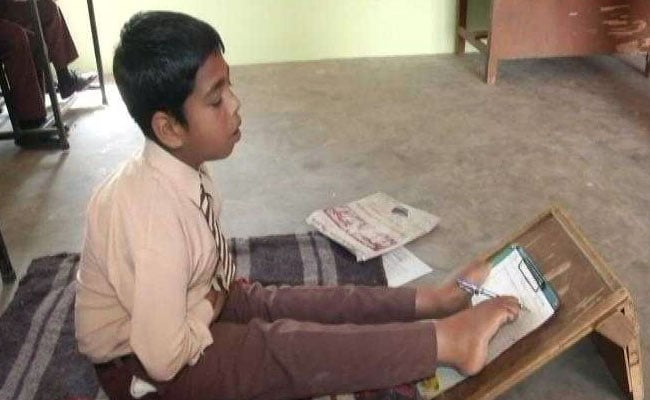 Ludhiana:
An 11-year-old boy from Punjab, who hasn't been able to move his hands and feet, has trained himself to write with his toes. A student at a state-run school in Ludhiana, he recently wrote his annual exams and made his teachers proud with the result. Sitting on the floor of a classroom full of students, he clasped a pencil between his toes and wrote his papers on a slanted wooden board. Flies, heat and his surroundings didn't exist for him in the examination hall.
Kamaljeet Singh underwent a surgery in 2013, but it failed to bring any movement to his hands. His father is a daily wager and mother a homemaker. He couldn't get the best care due to their weak financial condition. But he didn't skip school even for a day. His teachers became his support system.
When he was in Class 3, his teacher, Jaspreet Kaur, took notice of his condition. She decided to help him first grasp the pencil between his toes and later to move it. She taught him to form letters. His parents continued the exercise at home. During the course of his training, he showed progress. Soon he could scribble alphabets in Gurmukhi, a script to write the Punjabi language. And now he can write complete sentences and paint as well.
Gurpreet Singh, head teacher of the school in Saholi village, said, "His hands and feet weren't functional. But now he writes beautifully. In fact, his writing is neater than the handwriting of many of his classmates. He is good in studies as well as sports. He sings and paints as well. He is keen to learn and has shown immense potential. He has also set an example for his peers that if one has the will, he can do anything and that one should stay strong during tough times."