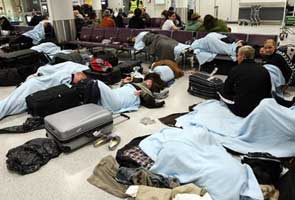 London:
The spread of dense ash from the erupting Iceland volcano could force the cancellation of up to 500 commercial flights in Northern Ireland, Scotland and parts of Scandinavia, the European air traffic agency said on Tuesday.
The agency that controls air traffic over Britain and the eastern Atlantic said airports will remain open but flights will be affected between 1:00 p.m. (1200GMT) and 7 p.m. (1800GMT) local time.
NATS said in a statement that the ash will affect airports in Londonderry in Northern Ireland, Glasgow, Edinburgh and Prestwick in Scotland, and Newcastle, Carlisle, Durham Tees Valley and Cumbernauld in northern England.
It advised passengers to check with their airlines before travelling.
Between 200 and 250 flights had already been cancelled, said Brian Flynn, head of network operations at Eurocontrol. There are just over 30,000 flights within Europe on average every day at this time of the year.
Ash from the Grimsvotn volcano already forced President Barack Obama to shorten a visit to Ireland, and has raised fears of a repeat of huge travel disruptions in Europe last year when ash from the Eyjafjalljokull volcano stranded millions of passengers.
Flynn said he did not expect Obama's European tour to be further affected and authorities have said they don't expect the kind of massive grounding of flights that followed last year's eruption. They say procedures have been improved since then and the cloud is currently not expected to move over continental Europe.
Nonetheless, the British Civil Aviation Authority said strong winds over Scotland was making it hard to predict the direction in which the ash would move. British Airways suspended all its flights for Tuesday morning between London and Scotland, while Dutch carrier KLM and Easyjet cancelled flights to and from Scotland and northern England at the same time. Three domestic airlines also announced flight disruptions.
The Irish Aviation Authority meanwhile ordered all flights from Ireland to Scotland to be suspended.