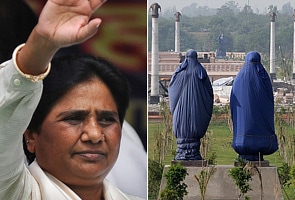 Lucknow:
Caring little about allegations of misuse of funds for erecting parks and statues, Uttar Pradesh Chief Minister Mayawati will inaugurate two more as a tribute to Dr B R Ambedkar on his birth anniversary on December 6.
To be named after the architect of the Constitution, both the parks are coming up in the city's Gomti Nagar locality, where a grand memorial in the name of Amebdkar exists already.
While one is being developed over a sprawling 22 acres of land featuring the city's biggest and most spectacular musical fountain, the other is coming up over 23 acres on the banks of river Gomti 'bandha' and would have the first four-faced statue of the iconic leader, an official said.
"Cast in marble, the 18-ft high statue has been sculpted in Jaipur. Another 12 feet high statue of Dr Ambedkar has been put up inside a huge pavilion at one of the parks", he said.
The state government has sanctioned around Rs 150 crore to develop the two parks.
With well laid out pathways, flower beds and lights, the entire 45-acre stretch of Gomti Barrage is being beautified to provide a visual treat to visitors.
"There will be a mix of light, music and colours. The hi-tech musical fountain has cost Rs 2.5 crore", the official said.
The Lucknow Development authority (LDA) earlier wanted to sell this reclaimed land along the Gomti river for the construction of a hotel.
However, the idea was shelved after the High Court shot down the proposal on a public interest litigation challenging the move.
Opposition parties including Congress, BJP and Samajwadi Party have been alleging that Central funds were misused by Mayawati government for construction of parks and statues.
Get Breaking news, live coverage, and Latest News from India and around the world on NDTV.com. Catch all the Live TV action on NDTV 24x7 and NDTV India. Like us on Facebook or follow us on Twitter and Instagram for latest news and live news updates.