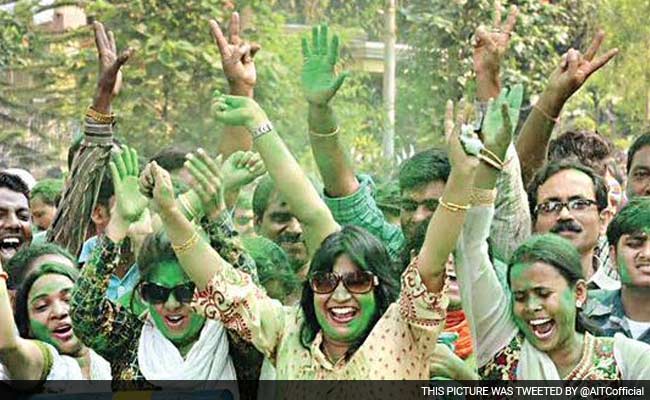 Kolkata:
In a major boost for ruling Trinamool Congress (TMC) ahead of next year's assembly polls, the party today scored landslide victory in violence-marred elections to Bidhannagar and Asansol Municipal Corporations and wrested Bally civic body from the Left Front.
TMC succeeded in breaking into Bally municipalty, a red bastion for the last 40 years, and won in all its 16 wards.
Out of the 41 wards in Bidhannagar, TMC won 37, CPI(M)-led Left Front and Congress two each. BJP drew a blank.
Adding to CPI(M)'s woes, the party's mayoral candidate and former state finance minister Asim Dasgupta and Ramala Chakraborty, widow of former Left Front strongman Subhas Chakraborty, were among the heavyweights who lost the polls in Bidhannagar.
In Asansol out of the 106 wards, TMC won 74 wards, Left 17, BJP eight, Congress four and Independents three.
Elections to Asansol, Bidhannagar municipal corporations and Bally municipalty, held on October 3 were marred by rampant violence and assault on journalists.
The polls to newly-formed Asansol and Bidhannagar municipal corporations in the state was pitched as a key test of popularity for the political parties ahead of next year's state assembly elections.
While TMC has hailed it as victory of the masses and people restoring their faith in the developmental work ushered by party supremo and West Bengal Chief Minister Mamata Banerjee, opposition Left Front has claimed that the results reflect the strength of TMC's 'goondaism'.
TMC secretary general Partha Chatterjee termed the victory as a mandate in favour of Banerjee and the party and said the people have given a "beffitting" reply to "canards against Trinamool."
"Inspite of massive propaganda and cannards against the party, the people have reposed faith in our supreme leader and our party. We hail this as a victory of the people of Bengal and a befitting reply to the opposition," he said.
Minister Jyotipriyo Mullick refuted allegations that outsiders had been used by TMC to win the polls. "This is a blatant lie. We have won the polls by the blessings of the masses. It was opposition Congress and CPI(M) which had used outsiders to create violence during the polls."