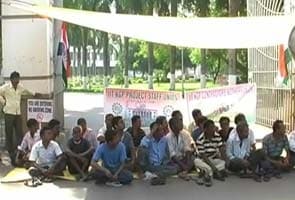 Kolkata:
Despite being excoriated for a rampage on the campus of Kolkata's prestigious Presidency University last month, workers of the Trinamool Congress disrupted IIT Kharagpur on Tuesday, forcing delays in exams that were being held.
Around 300 members of unions affiliated to the Trinamool, which is the ruling party in Bengal, blocked the main gates of IIT for five hours yesterday, demanding permanent jobs for contract workers and higher salaries. They were allegedly led in their demonstration by Jawaharlal Pal, a Trinamool councillor.
Because of the protest, employees could not enter the campus, air-conditioning and water supply to many of the buildings were affected and at least two exams were delayed.
It allegedly took the intervention of Trinamool General Secretary and MP Mukul Roy to curb the protests. After he called local Trinamool leaders, protestors left the gate and squatted on the pavement opposite it to continue their demonstration.
The protests had begun around 7 am. The gates to IIT finally opened around noon.
"Such an agitation by a political party paralysing the activities of the institution has never happened here," said a university official, TK Ghosal, according to national daily
The Hindustan Times