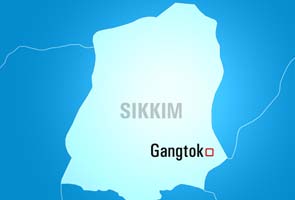 Gangtok:
Exactly a year after an earthquake measuring 6.8 on the Richter scale stuck Sikkim causing widespread devastation and left nearly 80 dead, a moderate tremor measuring 4.1 was again felt in the state today for a few seconds. No casualties or damage to properties have been reported as yet.
Coincidentally, today's tremor was felt within 15 minutes of the time of last year's quake.
The tremor, which lasted for about three seconds, sent people running out of their homes on the roads. Most were reluctant to return fearing aftershocks.
Following the tremor, power supply was switched off by authorities for about 20 minutes before it was restored but telecom and internet links were disrupted.
Micro blogging website Twitter was buzzing with tweets about the tremor. "minor earthquake felt in sikkim....almost same time and the same day as last year...you can never predict these things...," tweeted one.
"after one year sikkim again get the music of earthquake........for friction of second rite..." tweeted another.
Today's tremor came on a day when people across Sikkim performed 'puja' not only to remember those who perished in last year's quake but also praying against a repeat of the same disaster. The 6.8-magnitude tremor last year had killed close to 80 people and left about 350 injured in the state.
(
With PTI inputs
)