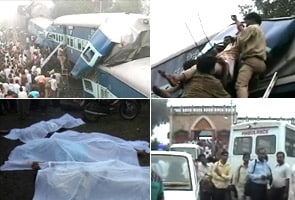 Shivpuri:
At least 23 people are feared dead and 40 others are injured after the Gwalior Intercity Express was hit by a goods train at Badarwaas in Shivpuri, Madhya Pradesh. The number of dead could rise. (
See pictures
)
The drivers, missing after the accident, have now been found. The Station Master of the Badarwaas station who was allegedly drunk during the accident has now been arrested. Blood samples of all three have been sent to test for alcohol content.
Two front bogies of the Express Train were badly damaged after the accident. The Army from neighbouring Jhansi district of Shivpuri have reached the spot with a helicopter to airlift the severely injured people.
The passenger train, from Indore to Gwalior, was reportedly stationary at the station when the goods train hit it from behind. Three coaches of the Intercity Express piled up on top of each other with the impact.
The accident happened at 5 am today. Visibility in the area was very low due to heavy rain. Rescue operations were also delayed as roads in the area are in poor condition and the nearest hospital is 55 km away.
Early reports said it appeared to be a case of negligence as the two trains were on the same track. An investigation will reveal whether there was a signal failure.
Badarwaas is a small station with very few resources for rescue operations but the people of the town have reacted fast, reaching the spot soon after the accident.
A passenger, Rajesh Mangal, called NDTV in Gwalior to inform about the collision and said the situation was grim. He said local doctors had reached the spot.
The Gwalior Intercity was at the station when the goods train collided with it. I was in the train. Two coaches were badly damaged...It was too dark, rescue efforts were delayed. Local people helped," Mangal said.
Railway Minister Mamata Banerjee has announced an ex-gratia of Rs 5 lakh for the next kin of the dead, Rs 1 lakh and Rs 50,000 for those with serious and minor injuries respectively.
Besides announcing monetary compensation, the government has also promised jobs to the next kin of those killed in the mishap.
Minister of State for Railways K H Muniyappa has already left for the accident site along with senior railway officials.
Helpline numbers:

Badarwaas: 07495245233/9752417560

Guna: 07542253799/07542254778

Shivpuri: 07492234407/9752417562


Despite precautions being taken, there has been a spate in train accidents over the last few months:

17 August 2010 -
Four people were killed in a train accident in Faizabad
19 July 2010 -
63 dead, more than 165 injured in Sainthia in West Bengal
18 June 2010 -
At least 27 persons were injured, two of them critically, when the Amaravati Express derailed near Koppal after ramming into a road-roller


28 May 2010 -
148 people were killed when the Gyaneshwari Express derailed after an explosion on the track (
Read: Chronology of major train accidents since 2000
)