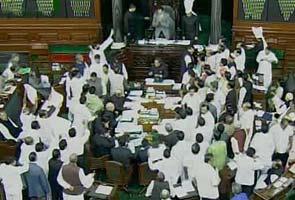 New Delhi:
It has been a week when Parliament could not transact any business. The government's decision to allow 51% per cent Foreign Direct Investment in multi-retail sector has led to cries of protest from the Opposition and allies alike, leading to disruptions. So vehement have been the protests that the Winter Session of Parliament which began on November 22 has not been allowed to function even for a single day.
The Congress and the BJP are accusing each other of hypocrisy on an issue that affects millions of traders and farmers. And as the face-off continues both outside and inside Parliament, the PM once again reached out to his biggest ally, the Trinamool Congress, but Mamata Banerjee refused to budge.
Both the Houses were adjourned again today amid chaos with a lot of bills pending, key among them being the Lokpal Bill, Land Acquisition Bill, the Pension Regulatory and Development Authority Bill, and the Nuclear Safety Regulatory Authority Bill. The session ends on December 21.
The FDI issue has even united parties who are usually at loggerheads, like the Left and the Trinamool, SP and the BSP, and the DMK and the AIADMK.
But this is not the first time that Parliament has faced such situations. Public money has been wasted many times when the government and the Opposition have had a confrontation.
Last year's Winter Session was perhaps the most wasted Parliamentary session ever. With the 2G scam coming to light, only six per cent of the work was reported in the entire session.
A chill ran through the Winter Session in 2004 as well when the boycott of tainted ministers like Lalu Yadav meant that 33 per cent Parliament's time was utilised for productive work.
Again, the Winter Session on 1995 saw only 26 per cent of Parliament's time was spent in productive work. Reason: Uproar over Sukhram's telecom scam. Sukhram was the telecom minister in the Narasimha Rao Cabinet.
The 2001 Budget Session of Parliament was marred by disruptions over the demand for setting up of a Joint Parliamentary Committee (JPC) into the stock market scam. The MPs worked only 59 per cent of the time.
The Winter Session same year and same issue, a JPC into the Ketan Parikh stock market scam was ordered but not before 40 per cent time had been wasted.