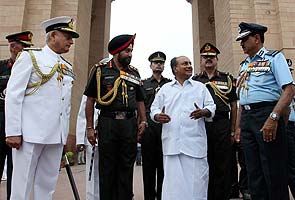 New Delhi:
Defence Minister AK Antony said that tension along the Line of Control (LoC) has "reduced" after talks between the two Director General Military Operations (DGMOs), but there will be no hasty decisions for normalising relations with Pakistan as it is "too early" to do so.
Talking to reporters, Mr Antony said infiltration attempts are still on even in extreme winters and wondered that "if this is the case now, what will be the position (of infiltration) in summers."
"We have to cross our fingers and after the tragic and inhuman incident, even though Pakistan has assured us certain things, we have to see how this assurance translates into action," Mr Antony said.
He also said, "We have to wait and watch and assess the ground situation and other factors. Regarding the future course of action and relations in the future, we will not take a hasty decision."
The situation on the LoC had turned bad after the killing of two Indian soldiers by Pakistan Army troops in the Mendhar sector.
Army chief General Bikram Singh had issued a strong warning to the Pakistan Army saying his force reserved the retaliate at the time and point of its choosing.