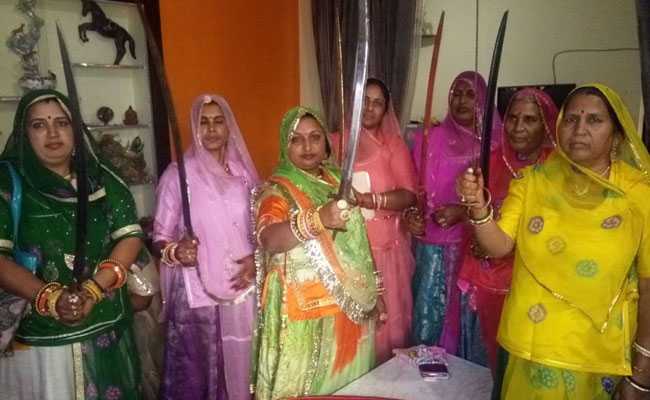 Chittorgarh, Rajasthan:
Before we begin the interviews, the women of the Jauhar Kshatrani Manch want to make sure they are filmed with their swords. The sudden publicity and prominence in the wake of the controversy over the movie
"Padmaavat"
has brought its own awareness. "We should look like
kshatranis
," Manjushree Shaktavat, the President of the Manch tells me candidly as she hands out a sword to each of the nine women who have gathered at her house - she calls them her core team.
The Jauhar Kshatrani Manch was formed about two years ago to oppose the release of Sanjay Leela Bhansali's film on the legendary Rani Padmini, believed to be the wife of Raja Ratan Singh, ruler of Mewar in the 13-14th century. "Bhansali changed the name of the film from
Padmavati
to
Padmaavat
, we've done the same. The Jauhar Kshatriya Manch wanted
"Padmavati"
to be banned and now insist "
Padmaavat"
be banned," declares Manjushree before turning to direct the women on how they should hold the swords for the camera.
We're meeting at Manjushree's spacious double-storey bungalow in Chittor city. Her husband and son work for Hindustan Zinc. She tells me that for her, a housewife, the sight of Deepika Padkone dancing without a
ghunghat
(veil) was a turning point in her life. "That very moment I resolved I would not let Bhansali violate a Rajput woman's pride. Now I am the busiest person in the entire family." Asked if her group supports the Karni Sena, Nirmala Rathore, General Secretary of the Manch, answers, "Of course we support them and they support us. We are one."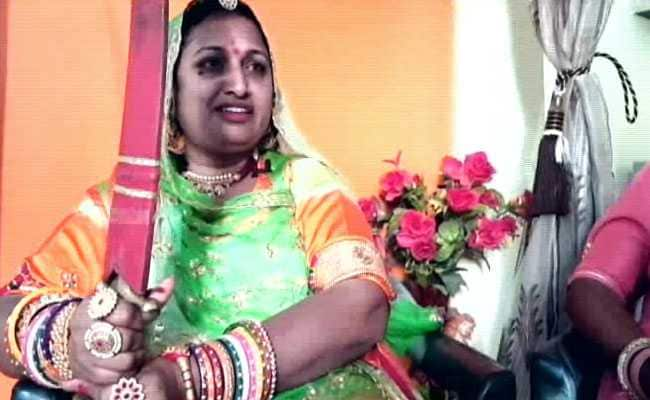 Last Sunday, amidst heavy police patrolling, about 500 women associated with the Manch marched to the spot marked as the Jauhar Kund at the Chittor Fort. The visual drama of their red and pink
poshaks
, along with their declared intent of committing
"Jauhar"
(suicide) got them into the national headlines. When the police intervened, they agreed to send a petition to the President and Prime Minister asking permission for "
iccha-mrityu"
- to die as they desire.
The women have lately taken to dressing in full bridal finery. "These are not clothes we wear every day, only on festivals or for our weddings. Women who went to commit
sati
or
jauhar
would also dress like this. So we dress like this to ensure that we're ready when the time comes to sacrifice ourselves in honour of our Queen," Nirmala explains, keen to detail the jewellery the women are wearing -
lehengas, odhnis, rakhri
on the head, the
bajuband
on their arm,
hathphools
on their fingers - ornaments that cover them head to toe.
"A Rajput woman will prefer to feel the flames on her body than lose her honour. It is not easy to do so. We flinch just at the touch of something hot. I can't keep my tears away when I think of our Rani going bravely to her death, she is our mother, we are her children," says an elderly Rathore woman, unable to complete her sentence as she begins to cry, as do some of the others.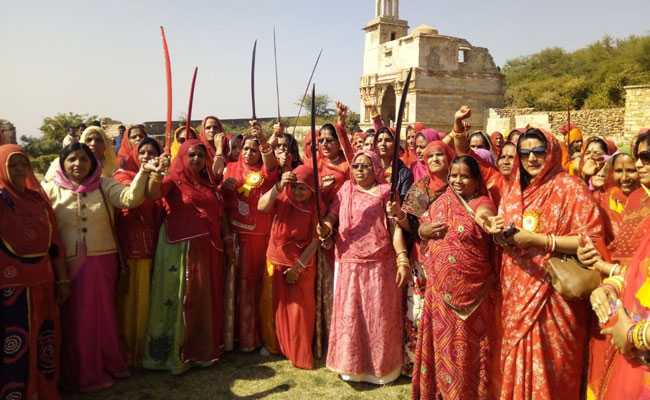 She's not officially a member of the Kshatrani Manch, but supports their demand for a ban on the movie. It's tricky to deal with the sentiment of the older women. Their words are less angry, more emotional. Undoubtedly, the story of Rani Padmini and her
jauhar
is deeply embedded in the psyche of Mewar. When this older woman speaks, she does so from sentiments that make little sense to me but are hard to dismiss or ridicule. The younger women and their rabid voices, though, are a quick reminder of what happens when local legends and regional icons are catapulted into dangerous frameworks of caste pride, nationhood and
Hindutva
. In Mewar, the overlapping of these forces has been very potent, often flying in the face of facts.
Manjushree pitches into Malik Mohammad Jayasi's epic 16th-century poem
"Padmaavat"
, the source for much of what we associate with the Queen. "Jayasi was a Mohammaden so of course he will want to distort the story of a Rajput queen and cast her in a love story with the Muslim ruler Khilji. Why did Bhansali follow suit?" Jayasi does no such thing. What he does do is immortalize her in such a way that most of what is known and recounted about the queen can be traced back to his
"Padmaavat".
Such thinly-disguised communalism goes hand-in-hand with a deep conservatism. The true focus of their anger is the film's grand song sequence featuring Deepika Padkone as Rani Padmavati, dancing the
ghoomar
. The
ghoomar
is a wedding dance moored in Rajput tradition but for long now part of a shared culture with other Rajasthani communities. "When Deepika Padkone does the
ghoomar
, her
lehenga
rises so high you can see her legs," complains Nirmala. Manjushree shows me a clip on her phone - a video of her dancing at a recent family wedding. "This is how Rajput women dance, in full
ghunghat
and only in the presence of women."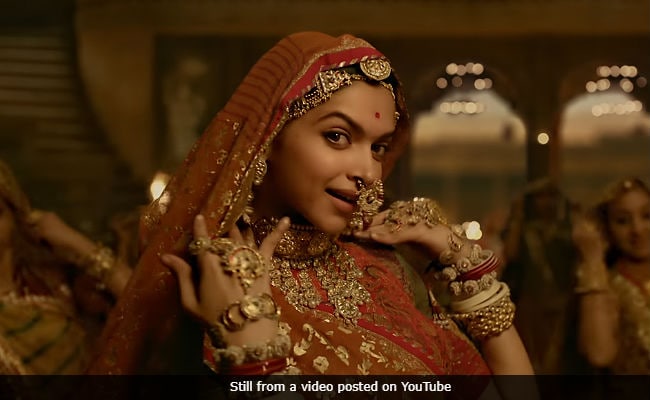 The song in the clip Manjushree shows me is the well-known
"Jalla"
, a composition in Raga Maand, danced to at weddings across Rajasthan. With her antipathy for Muslim rulers, she seems to have little idea that ethnomusicologists like the late Komal Kothari who have studied traditional musical texts conjecture that
Jalla
refers to Jallaludin Mohammad Akbar. Traditional
Maand
singers also note this fact.
The ironies of history would, in any case, be no match for the anger of these women. A younger woman, her voice trembling, shouts across room, "When I see the film, my blood boils. If we can't save the honour of
Ma
Padmavati how do we save ours? Let me warn you, don't think our protests will die down. They will escalate. Our men will fight and we will burn if need be. Bring Deepika Padukone to me and I will cut her nose off. A Hindu Kshatriya Rajput woman knows how to wield her
shastras
(arms)."
As a journalist, I'm forced to wonder if giving voice to these women on air or in print is counter-productive, actually fuelling the irrationality of the protests. But the sad truth is that while the women of the Johar Kshatrani Manch may be the extreme faces of the protests, their views find widespread acceptance in this region.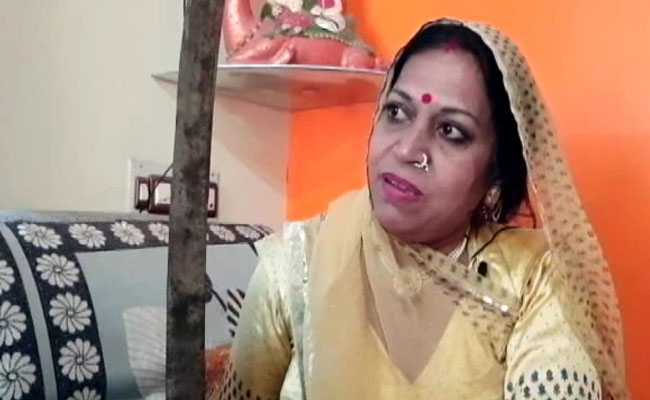 At the Chittor fort, I spot a group of energetic and cheerful young students on a picnic. I imagine they will dismiss the call for a ban of a film and expect them to be disturbed by the Karni Sena's violence. I couldn't have been more wrong. One of them introduces herself, "I'm Pooja Rathore, a royal Rajput," and goes on to add, "Bhansali has made a mockery of my community. He has shown Rani Padmini dancing in a
mehfil
. When we dance at our weddings, we are fully veiled, he's made Rajput women look
bazaaroo
(cheap). Another young girl cuts in to say "If I see Deepika Padukone, I will cut her nose off", a threat that the Karni Sena had made a few months ago. "Rani Padmini's maids have never seen her, only her ankles; now the whole world will see her as entertainment. Castes who are against the Rajputs will gloat when they see this."
One of the boys in the group, Mohal Lal Meghwal says not just Rajputs,
"sarv samaj, sarv dharma"
- all the communities in Chittor - support the ban. "Why when the Supreme Court hasn't given a decision on the
Ram Mandir
for years, should they give a decision on
'Padmaavat'
in just a few days?" In the face of ordinary Mewari youth studying in school and college (Pooja Rathore is only in 10th grade), my attempts to find voices of reason seem futile.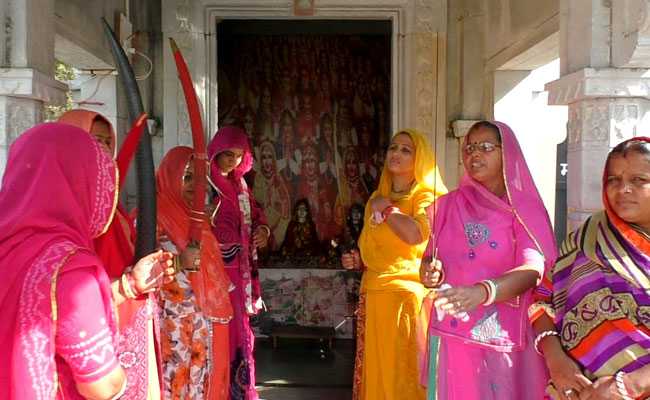 Back in Jaipur, even those from the Rajput community who wanted to criticize the Karni Sena's demand feel it is far too dangerous to say so openly. The fact is that in Rajasthan the Karni Sena's rhetoric has the full backing of the state. The Chittor MLA, Chandrabhan Singh Aakhiya, says "There should not be action against the Karni Sena. If they are protesting against
'Padmaavat'
, then it is right. Of course, breaking the law is wrong." Gulab Singh Kataria, Rajasthan Home Minister, told my colleague that "In a democracy, if Sanjay Leela Bhansali has a right to express himself, then others have it too." Not a single Congress leader in the state has spoken out against the ban or the violence. In such an atmosphere, the Supreme Court's decision to set aside the state government's ban has not mitigated the fear of film distributors across Rajasthan who say they cannot risk screening the film.
"That's rubbish." The women of the Kshatrani Manch insist the distributors are not scared. "They are not releasing the film as they understand the honour of Rajasthan is under threat."
Any other questions about their movement are dismissed by a series of rapid fire, practiced responses. "When people from your Jain community demanded the right to
santhara
(fasting to death", they tell me, "we supported them. We told them we now expect their help."
"The state has taken our land, our arms, banned our sacred practice of
sati
, but we will not let the film succeed".
"We went up to the fort to sacrifice ourselves twice, but were not allowed. Let me warn you - there will be an apocalypse if the film runs its course. We will not let
Ma
Padmavati's sacrifice go in vain."
I tell them that in Udaipur, where I come from, few say
'
Padmavati
'
, but refer to the legendary queen of Chittor as 'Rani Padmini'. They answer, "You're right, we also say 'Rani Padmini', but after Bhansali's film we've all started saying '
Ma
Padmavati'."