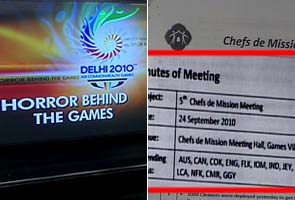 New Delhi:
It's not just scams that are coming out like a can of worms, now horror stories are emerging of what went on behind the Games.
Documents accessed by NDTV indicate that several participating countries raised questions about building defects and safety inside the village.
The government's own bail-out package to Emaar worth Rs 700 crore could also be probed, all this came on a day when the government accused the company of failing to deliver and confiscated the bank guarantee of Rs 183 crore that it had deposited with the DDA. (
Read: CWG - Govt freezes EMAAR's Rs. 183 cr deposit
)
For its part, Emaar MGF says it handed over the village in good condition, the mess was caused by other agencies.(
Read: Urine & vandalism in Village, warned EMAAR
)
Let's take a closer look at some of the complaints made by the chefs de mission about the defects in the Games Village:September 23: Complaint:
Cracks in the buildings, shattered glasses in residential area.
Difficult to believe it's been certified as fit.
Third party audit sought
Complaint:
Major safety concern in Tower 32. Live plug in shower cabin.
Inconceivable this tower is certified for safety
September 24:Canada:
Piece of dry wall/concrete fell off at our Tower's main entrance
This is "potentially fatal"

September 28:
England:
Water leaks in Tower 4; 25% of our accommodation unusable
Samoa:
Our Tower (12) is flooded; electrical, plumbing issues
Special DG:
24 hour de-watering of basements being done, 42 pumps working
South Africa:
Our Tower (# 22) is not ready
NDTV has accessed minutes of several Organising Committee (OC) meetings which reveal the daily record of complaints and objections filed by chefs de mission of different contingents participating in the Games.
Solomon Islands complained on Sept 26 that police were found making fun of delegates, they denounced it as offensive.
Scotland said on September 26 that cleaners were found sleeping in the beds that were setup and watching TV.
Drivers were a major concern for the contingents who were being taken to different venues, the OC got complaints that drivers were rash which caused athletes to worry about their safety. What made matters worse was that the drivers could not speak English and many of them did not know the routes.
Canada complained on September 27 that Kitchen door left open by workers, let in a lot of mosquitoes. Canada then decided to send athletes to a hotel. Both Canada and India complained that mosquito repellents should have been allowed by security.
Malta said on October 2 that technicians came to install tech items but a lot of the equipment was missing.
On September 27, Scotland lodged a complaint that a large number of medical items were missing.
On September 29 England said their para athletes were left on the plane for an hour and no wheelchairs were made available.
Botswana lodged a complaint that said: Please be honourable and do not give us timelines that you cannot deliver.
There were repeated complaints of the Wi-Fi not working or inadequate/insufficient coverage.
On one occasion, the electricity went out at 7 pm, wasn't resolved until later that night.
Scotland complained on September 29 that exchange rates inside the Village were very high compared to outside.
New Zealand said that the opening ceremony was delayed by 35-45 minutes. Should they assume the same delay for the closing?