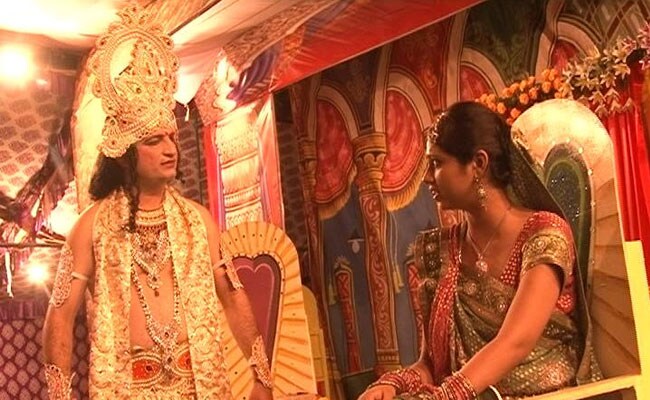 Faridabad:
Strange as it sounds, a 'Mirza Ghalib meets Tulsidas' scenario is being played out at a Ramlila maidan in Faridabad. The Shraddha Ramlila group has hit upon the idea of punching in Urdu couplets with Hindi dialogues to narrate the great Indian epic.
Sample this: Dasrath telling Kaikeyi: "Fizayein dekhti hain, dekhte hain mahal saare, zameen, aakash, parvat, sakshi hain chaand aur tare (Everyone is a witness, this palace, earth and mountains, moon and the stars...)."
Kaikeyi replies, "Kya kahon main janti hoon apko mujhse hain kitna pyar, pyar ki baatein hain muh me bagal me hai katar (I know how much you love me... sweet words on your lips, murder in your heart)."
The audience, says everyone in Shraddha Ramlila, is lapping it up.
The script owes its origin to the ancestors of the Shraddha Ramlila Group, who migrated from what is now Pakistan to India, and brought along with them the warmth and simplicity of Urdu couplets.
It was in 1976 when the first version of Ramayana in Hindi mixed with Urdu couplets was presented in Palwal, Haryana, the rest as they say is history.
"Our ancestors had brought this from Pakistan. We removed some Urdu words to make it simpler. We are getting more audience and appreciation," said director Anil Chawla.
The idea behind this innovative effort is to generate interest in the timeless epic as well as to attract a larger audience to the grounds.
"We are trying to bring forth a mix of age-old tradition and modern values, so the present generation is aware of it," added Ritesh Kumar, who plays the role of Lord Ram.