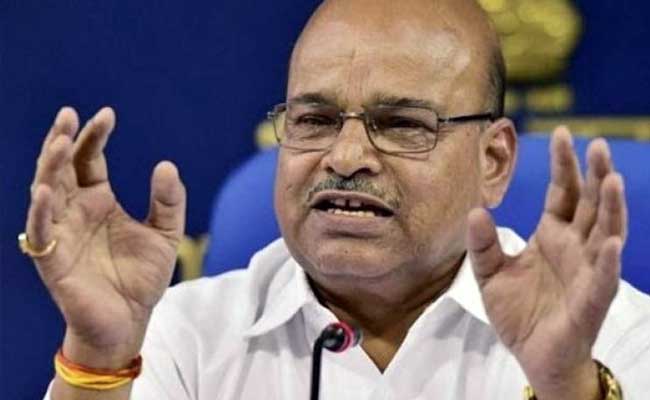 Bhopal:
Union minister Thawar Chand Gehlot today gave a different version of Madhya Pradesh Chief Minister Shivraj Singh Chouhan's statement on the SC/ST Act, saying the latter had said no arrest will be made under the Act without an inquiry.
Mr Gehlot's statement came after Mr Chouhan came under criticism from the opposition for his announcement on Thursday that a directive will be issued shortly to ensure that the amended Scheduled Caste and Scheduled Tribe (Prevention of Atrocities) Act is not misused in the state.
"The misuse of the (amended) SC/ST Act will not be allowed in Madhya Pradesh. Only after a thorough probe, a case will be registered under it. To this end, a directive will be issued shortly," Chouhan had told reporters.
Mr Gehlot, a prominent Dalit leader BJP in the state, said Mr Chouhan was talking about an inquiry before arrest and not before lodging an FIR.
"Chouhan had said no one will be arrested without an inquiry. The Act says that after registration of an FIR there should be an inquiry before making arrests," the social justice and empowerment minister told PTI.
"He (Chouhan) said an FIR would be registered and after that an investigation will be carried out," Mr Gehlot added.
According to the Supreme Court's ruling, a deputy superintendent of police is to carry out an inquiry before registering an FIR under the Act, he pointed out.
"We have reversed it. Now if anybody comes with a complaint, his FIR would be lodged without an inquiry. After this, an investigation will be carried out by the police station's inspector, sub-inspector or assistant sub-inspector, and then arrests will be made," he said.
"For arrest, the consent of senior superintendent of police and the appointing authority, as directed earlier by the Supreme Court, is not needed now," he said.
State BJP Scheduled Caste and Scheduled Tribe Cell president Gajendra Singh Patel told PTI that Mr Chouhan's statement is "on the lines of the amended law".
Mr Chouhan's statement came in the backdrop of protests by upper some caste organisations against recent amendments to the SC/ST Act by Parliament, which restored the provision of immediate arrest under the law, to overturn a Supreme Court judgment.