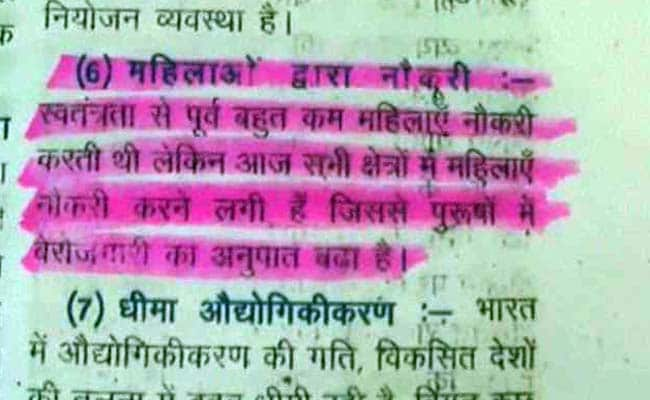 Raipur:
The government in Chattisgarh courted controversy with a chapter in its Class X social science textbook which says that working women are one of the causes of unemployment in the country.

After an uproar, the state government today said it has decided to withdraw the controversial chapter, which was dubbed as "highly objectionable" by the opposition.

The textbook published by Chhattisgarh Board of Secondary Education states that the ratio of unemployment of men increased after Independence because women have started working in all sectors.

"The chapter (which contains controversial representation of women) will be withdrawn from the textbooks. I have issued directives in this regard to take immediate action," School Education Minister Kedar Kashyap told PTI.

The chapter will not be taught in the current academic session and it will be removed from the next year, Mr Kashyap added.

The chapter has been there in the textbooks since 2008 and an investigation will be conducted to identify those responsible for it. This will be followed by appropriate action against the guilty, the minister added.

Besides, the School Education Department will form a committee to evaluate contents of all textbooks of higher classes- X, XI and XII.

A teacher from the tribal-dominated Jashpur district had filed a complaint last month with the state Women's Commission over the issue citing it as violation of constitution which provides equal rights to men and women.


"Constitution provides women equal right over jobs with men then how can they blame females for rising unemployment of males. Students should be taught about actual cause of unemployment rather than such prejudiced reasons," Soumya Garg, a teacher with Sarswati Shishu Mandir, Jashpur said.
The depiction women in this way would not only develop a negative impression for girls among boys but also discourage girl students, Ms Garg said.
In a chapter on economic problems and challenges, working women were claimed to be one of the reasons for unemployment. It further said the percentage of working women was very less in pre-independence era but now they are working in all sectors due to which the ratio of unemployed male has increased.
Congress condemned the controversial chapter, saying it is a conspiracy of ruling BJP to instill patriarchal mindset in children.
"It is highly objectionable and action should be taken against those who have compiled the contents of the book," Congress state spokesperson Shailesh Nitin Trivedi told PTI.