Highlights
Naveed Jatt was on the wanted list of the police
He had shot dead Shujaat Bukhari, editor of 'Rising Kashmir'
Jatt is a resident of Multan in Pakistan, involved in several killings
Srinagar:
Pakistani terrorist Naveed Jatt, wanted for the killing of Kashmir editor Shujaat Bukhari in June, was one of the two terrorists shot dead in an encounter in Budgam district today. A joint operation was launched by the state police and the army after specific intelligence that the terrorists were hiding in a village. A fierce gun battle started after security forces zeroed in on two or three terrorists hiding in a building.
The terrorists' killing was "good news for peace-loving people," police chief Dilbag Singh told reporters. Naveed Jatt, he explained, had managed to give the forces the slip in six past encounters.
A terrorist of the Pakistan-based Lashkar e Taiba and a resident of Multan, Naveed Jatt had escaped from the SMHS hospital in Srinagar in February, when jail authorities had taken him there for a checkup.
Jatt's daring escape was planned at the Srinagar Central jail, where he had been imprisoned since 2016. Gunmen stormed the hospital and killed two policemen before they whisked away Jatt.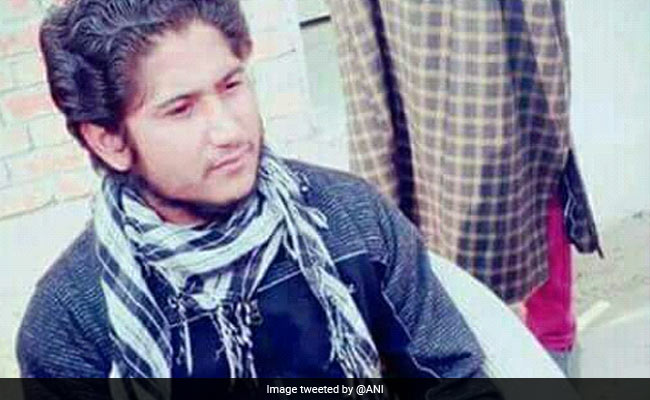 Pakistani terrorist, Naveed Jatt had escaped from jail in February
The 20-year-old Lashkar-e-Taiba commander was arrested from south Kashmir in 2016 for his involvement in several killings in the state.
Shujaat Bukhari, the editor of "Rising Kashmir", was shot dead on June 14 after he left his office in Srinagar's Press Enclave a day before Eid. Three killers on a bike opened fire at the 52-year-old journalist and his two security guards. All of them died. Mr Bukhari was hit with 17 bullets.
Police believe one of the three men on the bike was Jatt. On Friday, another terrorist believed to be involved in the editor's killing, Azad Malik, was shot dead in Anantnag.
Jatt was said to be close to Lashkar chief Zaki-ur-Rehman Lakhvi, the mastermind of the 26/11 Mumbai attacks, and was likely to take over as the terror outfit's chief in Kashmir, the police believe. His killing is seen as a major success for security forces. Jatt was operating in south and central Kashmir and was believed to be actively involved in recruiting young men for terror.