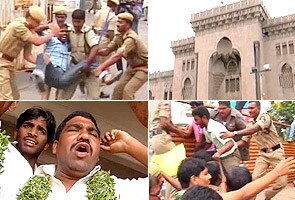 Guntur, AP:
A student body advocating united Andhra Pradesh has warned of "bitter consequences" if the Justice Srikrishna Committee recommends formation of a separate Telangana state.
The five-member Committee, appointed early this year to go into the issue of statehood for Telangana, is slated to submit its report on December 31.
United Andhra Pradesh Students' Joint Action Committee (JAC) said on Monday that if the panel recommends a separate Telangana, the "consequences will be bitter". It also asked people's representatives in the Andhra region to resign if the statehood demand is accepted.
Representatives of 14 universities in the Andhra region met in Nagarajuna University on Monday and chalked out a plan of action if the report goes against their plea to maintain a united Andhra Pradesh.
P Samuel, a leader of the JAC, expressed hope that the Centre-appointed committee will favour the status quo in the state.