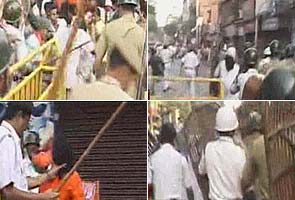 Kolkata:
Kolkata police lobbed teargas shells and resorted to lathicharge to disperse BJP protesters who allegedly broke barricades and tried to march into the State Secretariat on Tuesday.
The party workers had gathered outside the Secretariat protesting againt many issues, including the price rise. The police arrested one of the protesting BJP leader.
The men in uniform swung into action as party workers broke police barricades and tried to march into the prohibited Writers' Buildings, police sources said, adding that tear gas shells were used after lathicharge failed to disperse the protesters.
The BJP workers threw at least 10 bombs and hurled brickbats, damaging vehicles and shops in the nearby Bowbazar area, they said.
BJP's state unit president Rahul Sinha was arrested along with several party workers from near the office of the Tea Board, a few hundred yards from the state secretariat, they said.
Sinha claimed that nearly 50 party workers were injured in the police action.
The protest march was against the price hike, the state government's alleged 'minority appeasement policy' and deteriorating law and order in the state.
The Rapid Action Force beside the police were posted in and around the Writers' Buildings in strength. Traffic was stalled for about an hour in the area due to the violence.