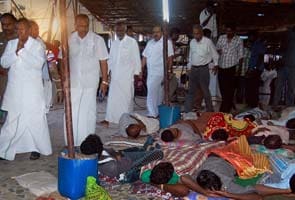 Kudankulam:
More than a hundred villagers in the sea-side area of Kudankulam ate today for the first time in 12 days. They have been fasting against the new nuclear plant, that was meant to become operational early next month.
Their hunger strike ended after their representatives returned from a meeting with Tamil Nadu Chief Minister J Jayalalithaa in Chennai. She promised them that her cabinet will today issue a formal resolution asking that work at the Kudankulam nuclear plant be suspended. The resolution will be sent to the Prime Minister.
It will not come as a surprise. Upon Ms Jayalalithaa's request, the PM deputed senior minister V Narayansamy to visit villages near the 13,000 crore nuclear plant, and reassure them that their safety concerns have been taken into account. The first of two nuclear reactors at the site was scheduled to swing into business in October. Together, the two reactors are expected to help solve Tamil Nadu's considerable power shortage.
But local opposition has been growing, despite certification from the Indian government and international experts that the nuclear plant passes all safety requirements. Villagers cite the Fukushima disaster that followed Japan's tsunami in March? Close to 8000 people had joined daily demonstrations against the nuclear project.
After hearing the objections of protesters on Monday night, Mr Narayanasamy declared, "People's safety first. Power later." The Russian government, which has partnered with India to set up the nuclear plant, has expressed its disappointment over the likely delays in implementation. Mr Narayansamy has said he will brief the Prime Minister who will then decide what happens next.
Former Atomic Energy Commission chief M R Srinivasan has recommended a vigorous public relations push to counter the "misinformation campaign" against the nuclear project.
"The Atomic Energy Department, Nuclear Power Corporation of India Ltd and Atomic Energy Regulatory Board have done extensive rechecks and they are satisfied that the circumstances that led to the Fukushima accident, are not at all likely to happen in Kudankulam," he told PTI.
He also blamed the unrest on misreports that more land will be acquired soon for the nuclear plant, and that the project will contaminate the sea nearby, affecting fishermen.
Mr Srinivasan told PTI that pointed out that fishing near the coastal nuclear sites of Tarapur and Kalpakkam has not been affected by the atomic facilities located there.