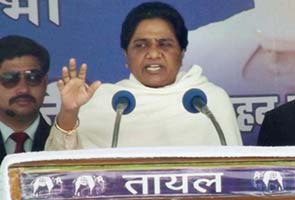 Lucknow:
Former Uttar Pradesh Chief Minister Mayawati's legal trouble is far from over. After the Supreme Court quashed the disproportionate assets case against the BSP chief, the Taj Corridor case, that led the CBI to investigate Ms Mayawati's assets, has once again surfaced to haunt her.
On November 5, a two-member Lucknow bench of the Allahabad High Court will pronounce its verdict on a PIL seeking the reopening of the Taj corridor case against Ms Mayawati and her close aide Naseemuddin Siddiqui.
A Speical Judge of the CBI had discharged Ms Mayawati and Mr Siddiqui from prosecution because the then governor TV Rajeshwar had refused to grant sanction in 2007.
Three separate PIL's were filed in 2009 asking for the reopening of the case against Mayawati and her aide.
The Petitions alleged that the sanction to prosecute Mayawati was denied because of cordial relations between the Congress-led government at the Centre and Mayawati.
The CBI had investigated the case and filed a chargesheet against Ms Mayawati, MR Siddiqui and former Principal Secretary of Environment RK Sharma and Former Environment Secretary Rajendra Prasad.
They had been accused of siphoning off Rs 175 crore in a construction of a corridor near the Taj Mahal.