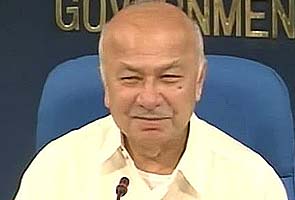 Mumbai:
Union Home Minister Sushil Kumar Shinde underwent surgery for a lung ailment at a private hospital on Sunday morning, his daughter Praniti said.
Mr Shinde, 72, was admitted to the Breach Candy Hospital on Saturday night.
He is under the care of doctors R Deshpande and A Jog at the hospital.
"It was a minor operation and planned well in advance for a Sunday, when he would be in Mumbai. There is absolutely no cause for concern," Praniti Shinde, Congress legislator, told IANS.
After the surgery, Mr Shinde will be shifted to the surgical intensive care unit for three days. He is expected to be discharged after 10 days.
Mr Shinde on Saturday attended a function at the National Sports Club of India (NSCI) and was also present at an Iftaar dinner hosted by Chief Minister Prithviraj Chavan.