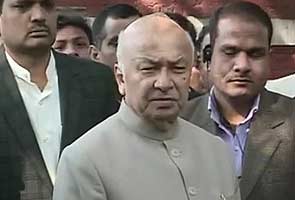 New Delhi:
Home Minister Sushil Kumar Shinde was forced to "express regret" for his "Hindu terror" remark made last month, in a statement designed to bring around a belligerent BJP, which had threatened to disrupt Parliament and boycott the minister if he did not apologise.
(Read his full statement)
In a statement released on Wednesday evening, a day before the Budget session of Parliament begins, the home minister regretted that his comments at a Congress conclave in Jaipur last month had "created controversy" and "misunderstanding." Mr Shinde said he had "no intention of linking terrorism with any religion. There is no basis for suggesting that terror could be linked with the organisations mentioned in my brief speech at Jaipur."
This morning, BJP chief Rajnath Singh led top party leaders and workers in a protest march from Jantar Mantar towards Mr Shinde's residence this morning and courted arrest, demanding that the Home Minister either apologise or be sacked for having said in Jaipur, "We have got an investigation report that be it the RSS or BJP, their training camps are promoting Hindu terrorism." He later said he meant "saffron terrorism" not "Hindu terrorism," but that riled the BJP equally.
With the main opposition party clear that it meant business, the government swung into action to ensure important legislative business is not derailed by disruptions in Parliament. The PM said this afternoon that he hoped to "find a constructive solution to all issues... All political parties have an obligation to ensure smooth passage of the session." Soon after, Parliamentary Affairs Minister Kamal Nath said the government would discuss the Shinde controversy with the BJP.
Mr Shinde reportedly first discussed the clarification of his Jaipur comments with leader of opposition in the Lok Sabha Sushma Swaraj, who had raised the issue at an all-party meeting today called by Speaker Meira Kumar and sought the latter's intervention. "Mr Shinde said the BJP and RSS runs terror camps... in that case, I have no right to be the Leader of Opposition in Parliament, we want the Speaker to address this issue," Ms Swaraj said after the meeting. Mr Shinde is also the Leader of the Lok Sabha.
The BJP's attack on Mr Shinde is part of a larger attempt by the party to regroup its traditional Hindu vote bank. The BJP's ideological mentor, the RSS, has mandated a Hindutva relaunch as part of its action plan for general elections 2014.