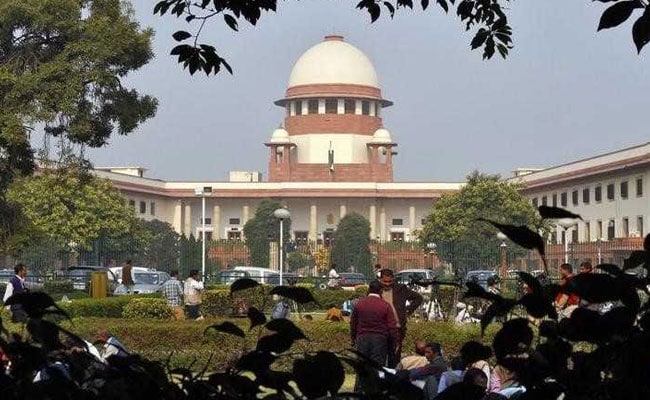 New Delhi:
Five judges of the Supreme Court will tomorrow start hearing a bunch of petitions that wants the court to stop the government from forcing people to link their Aadhaar number to access public services and benefits. The government had spelt out 31 December as the deadline for linking the 12-digit number to their bank accounts and other financial dealings but gave people three more months right ahead of the court hearing. The constitution bench headed by Chief Justice of India Dipak Misra will start hearing the case at 2 pm.
Here are the 10 facts in this story:
The central government had earlier attempted to convince the court not to interfere with its deadlines, promising to extend it for another three months till 31 March 2018 for those who do not have Aadhaar.

Attorney General VV Venugopal also committed that no coercive action would be taken against those who are willing to enrol for Aadhaar by the new deadline.

It is not clear if the Supreme Court shall pass any interim orders against the mandatory linking of Aadhaar on Thursday before the winter recess of the court starts.

The government expects that Attorney General's assurance and Wednesday's decision to give people three more months to link their Aadhaar with bank accounts may have addressed much of the urgency that was felt earlier. The deadline for linking Aadhaar to mobile phone connections ends February 6.

"Our case is that those who have Aadhaar must also be allowed not to link (the identification number with bank and other accounts). There are fears that Aadhaar will be misused," said Udayaditya Banerjee, the advocate representing the petitioner had told NDTV earlier. Among the petitioners is Justice KS Puttuswamy, a former judge of the Karnataka High Court.

West Bengal Chief Minister Mamata Banerjee had also filed a petition challenging the linking of Aadhaar to welfare schemes, but was told to file her petition as an individual, not as the Chief Minister of a state.

In August, a nine-judge bench of the Supreme Court ruled that privacy is a fundamental right, subject to reasonable restrictions. The judges asked the government to introduce legislation and measures to ensure that data is protected.

Aadhaar was set up to be a form of digital identification for all residents, originally pitched for targeted delivery of benefits to the poor.

The centre says that the 12-digit unique ID or Aadhaar assigned to citizens is a must for government services, filing returns, financial transactions and mobile phones services. Over a billion Indians have already registered for Aadhaar cards, which ascribe unique ID numbers, and record fingerprints and iris scans of each person.

An Aadhaar law pushed through parliament last year gives the government power to make it mandatory to access any service including train and bus travel. There have been worries that this would make it very easy for the government to invade the privacy of the enrolled population.