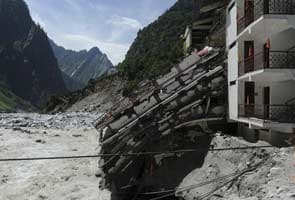 The Supreme Court today directed the Centre and the Uttarakhand government to not grant environmental clearances for hydro-electric projects in state. The two-judge bench was hearing a case relating to the Alaknanda Hydro Power Project.
The Court directed the Ministry of Environment and Forests to set up an expert body to study the environmental degradation by power projects and its role in the recent tragedy where over 6,000 lives were lost.
The panel will also examine the impact of the 24 new hydro-electric projects that have been proposed on the biodiversity of the Alaknanda and the Bhagirathi river basins.
The court has directed Uttarakhand's Disaster Management Authority to submit a report on whether they had any disaster management plan in place and how well did that plan work.
"We are also deeply concerned with the recent tragedy, which has affected the Char Dham area of Uttarakhand. The adverse effect of the existing projects, projects under construction and proposed, on the environment and ecology calls for a detailed scientific study. Proper disaster management plan, it is seen, is also not in place, resulting in loss of lives and property," said the court.
Both central and state agencies have been asked to submit their report in three months.