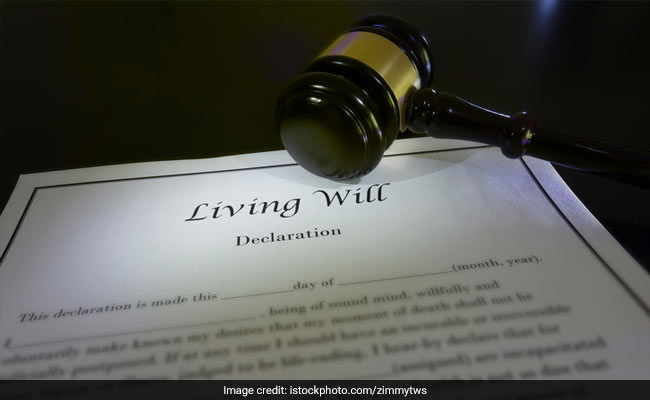 New Delhi:
The Supreme Court has indicated it might recognise the execution of 'living will' in cases of passive euthanasia, as right to die peacefully is part of fundamental right to life under Article 21 of the Constitution.
The Supreme Court, however, said there should be adequate safeguards and implementation of living will would be subject to medical board's certifying that the patient's comatose state is irreversible.
A five-judge constitution bench headed by Chief Justice Dipak Misra reserved its verdict on a plea seeking recognition of 'living will' made by a terminally-ill patient for passive euthanasia.
Living will is a written document that allows a patient to give explicit instructions in advance about the medical treatment to be administered when he or she is terminally ill or no longer able to express informed consent.
Passive euthanasia is a condition where there is withdrawal of medical treatment with the deliberate intention to hasten the death of a terminally-ill patient.
The top court had recognised passive euthanasia in 2011 in Aruna Shanbaug's case by which it had permitted withdrawal of life-sustaining treatment from patients not in a position to make an informed decision.
The bench, also comprising Justices AK Sikri, AM Khanwilkar, DY Chandrachud and Ashok Bhushan, said that Right to Life does not mean right to die but a dignified life would certainly include right to die with dignity, as advance directive would take effect once a medical board affirms that the patient comatose state is irreversible.
"One cannot say that you have a right to die, but you have a right to dignified death. If we recognise the right to dignity in death, then why not dignity in dying," the bench observed, adding that life must be preserved but not prolonged in suffering.
It said that living will may be there as right to die peacefully is part of a fundamental right to life under Article 21 of the Constitution, provided there are adequate safeguards.
It also said if a medical board certifies that the health of the patient is irreversible and cannot be kept alive without artificial support, then the living will's role may come in.
Additional Solicitor General PS Narasimha, appearing for Centre, opposed recognition of 'living will' and said the consent for removal of artificial support system given by a patient may not be an informed one and without being aware of medical advancements.
He cited examples of various countries in disallowing creation of living will by patients.
Mr Narasimha said a draft bill, based on the guidelines framed by the top court in Aruna Shaunbag's case, is under the government's consideration.
He said the decision whether to remove life support or not, can only be taken by a medical board after examining the condition of a patient.
Advocate Prashant Bhushan, appearing for petitioner NGO 'Common Cause', said safeguards are needed while taking a decision by medical boards to withdraw life support of a patient.
Senior advocate Arvind Datar, appearing for an intervenor NGO 'Vidhi Centre for Legal Policy', said that the top court has recognised the distinction between the active termination of life and the withdrawal of life-sustaining treatment with the latter firmly recognised as an expression of autonomy, bodily integrity and right to life.
He urged the court to declare that advance directives are an extension of the right to refuse medical treatment and the right to die with dignity and recognition of the legal validity is necessary to give effect to the rights of incompetent patients under Article 21 of Constitution.
Article 21 provides that "no person shall be deprived of his life or personal liberty except according to procedure established by law."
The bench then observed that it is to be decided whether mercy killing can be declared as a right under article 21 of the Constitution or not and said that the advanced directive was a subject to the medical boards interpretation.
The bench expressed its inclination for constituting medical boards across the country in each district and said it should be obligatory.
Yesterday, the government had opposed granting legal validity to "living will" in cases of passive euthanasia, by telling the Supreme Court that it could be misused and may not be viable as a good public policy.
The bench was hearing a PIL filed in 2005 by the NGO, which said when a medical expert opines that a person afflicted with a terminal disease has reached a point of no return, he should be given the right to refuse life support.
On January, 15, 2016, the Centre had said the 241st report of the Law Commission stated that passive euthanasia should be allowed with certain safeguards and there was also a proposed law --Medical Treatment of Terminally Ill Patient (Protection of Patients and Medical Practitioners) Bill, 2006.
It had said that on specific occasions, the question of withdrawing supporting devices to sustain cardio-pulmonary function even after brain death, shall be decided only by a doctors' team and not by the treating physician alone.