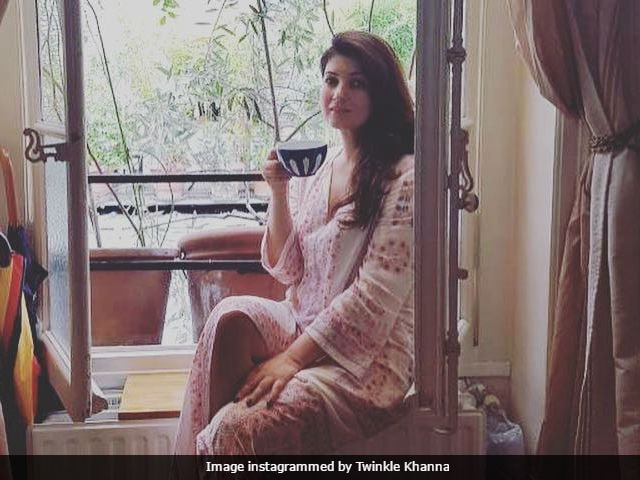 Highlights
Judge Mahesh Chandra Sharma said peacock is a 'lifelong brahmachari'
This makes me homesick missing all the fun: Twinkle tweeted from Paris
Twinkle comments on current affairs with the most playful of words
New Delhi:
Twinkle Khanna was in Paris
when a judge of the Rajasthan High Court educated us about how baby peacocks are made. So she's a little late to the party but has had plenty of time to think up a zinger - which she posted on her social media accounts this morning. "Peacock: Our baby has scales - not beautiful feathers like me! Peahen: Sunoji your fault! You must have shed some crocodile tears that night! #LastOne," the 43-year-old author wrote. For those who've been comatose or on Mars all of last week,
Judge Mahesh Chandra Sharma
explained that the peacock is the national bird because, "The peacock is a lifelong brahmachari (celibate). It never has sex with the peahen. The peahen gets pregnant after swallowing the tears of the peacock." From Paris, Twinkle Khanna tweeted, "Now this makes me homesick - missing all the fun. Peacocks don't have sex because jungle
mein mor nacha, kisne dekha
?"
Now, several days later, she's given us this gem, as iridescently wondrous as a peacock feather:
Twinkle Khanna, a former actress and now woman of many hats, runs a Twitter account replete with witticisms like above. She comments on current affairs with the lightest of touches and the most playful of words.
Twinkle, daughter of actors Rajesh Khanna and Dimple Kapadia, is married to actor Akshay Kumar and the couple have two children. Her Paris holiday was strictly minus husband and kids. Twinkle Khanna, star of films such as
Barsaat
,
Zulmi
and
Baadshah
, quit acting after 2001's
Love Ke Liye Kuch Bhi Karega
. She has since reinvented herself as an interior designer, columnist and author. Twinkle has retained her Bollywood connections as co-producer of films such as
Patiala House
and
Holiday
, starring her husband. She is now producing a new film starring Akshay Kumar, one that she's also conceptualized -
Padman
is being directed by R Balki and also stars Sonam Kapoor and Radhika Apte.