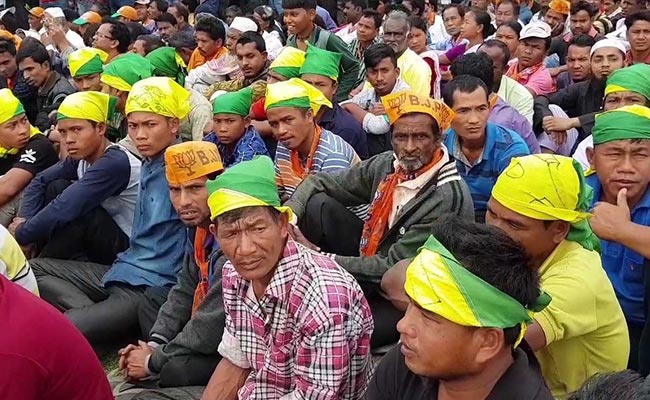 Agartala:
Weeks ahead of the Lok Sabha polls, the spotlight has focused on Tripura's tribal-based parties since the indigenous people have always played a significant role in the state.
BJP and the Indigenous People's Front of Tripura (IPFT), have continued their talks over seat-sharing even as they are adamant on fielding their own candidates for the state's two Lok Sabha seats -- Tripura West and Tripura East.
Separately, the Indigenous Nationalist Party of Tripura (INPT), the state's oldest tribal-based party, and leaders of other tribal-centric outfits, have also held inconclusive talks with the central leaders of the Congress, including its President, Rahul Gandhi, earlier this week in Delhi.
Deputy Chief Minister Jishnu Dev Varma and Education and Law Minister Ratan Lal Nath, both senior BJP leaders, held several hours-long meeting with the IPFT leaders on Thursday, but the seat sharing hurdles remained unresolved.
IPFT General Secretary and Forest and Tribal Welfare Minister Mever Kumar Jamati, told news agency IANS on Friday that they would take a final decision in the party's two-day executive committee meeting on March 16-17.
IPFT President and Revenue minister Narendra Chandra Debbarma, had earlier told IANS: "We have been requesting the BJP leaders to allow us to contest from Tripura East since it's reserved for tribals."
"If the BJP does not do so, we would put up candidates in both the Lok Sabha seats."
The Central Executive Committee (CEC), the INPT's top policy making body, would hold a crucial meeting on Friday to take a final decision on the Lok Sabha elections.
"A party delegation led by President Bijoy Kumar Hrangkhawal met Rahul Gandhi in Delhi on Tuesday and discussed the seat sharing issue.
"We have approached the Congress to allot the Tripura East seat to the INPT. The Congress has not made any commitment yet."
"Hrangkhawal and other leaders would apprise the CEC about the Delhi meetings and the next course of action would then be finalised," CEC Chairman Srota Ranjan Khisa said.
Few other tribal-based parties, including the National Conference of Tripura (NCT), are also holding a series of meetings with the Congress, BJP and other parties to fine tune their tactics.
Tripura Congress vice president Tapas Dey told news agency IANS that the central and state leaders are trying hard to avoid a division of the anti-BJP and anti-Left vote share in Tripura.
"We are not concerned about the mere winning of two Lok Sabha seats; our target is to register a record victory margin. Ram Madhavji, while addressing the party leaders across the state here (on Tuesday) gave us the clear roadmap to win the two seats," said BJP General Secretary Pratima Bhowmik.
Of the state's two seats, West Tripura goes to the polls on April 11 and East Tripura on April 18.