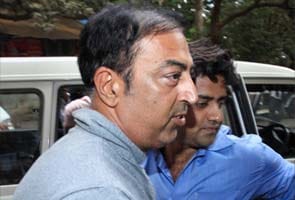 Mumbai:
Actor Vindoo Dara Singh today admitted that he helped two bookies, Pawan Jaipur and Sanjay Jaipur, escape to Dubai, sources have told NDTV.
The police today also conducted a search at Vindoo's residence and reportedly recovered three mobile phones belonging to Pawan Jaipur and Vindoo's iPad and laptop.
Vindoo was arrested yesterday for his alleged links with bookies accused of
spot-fixing
in the on-going season of IPL. He will be in police custody till Friday. He has been charged with cheating and forgery. (
Read: Vindoo Dara Singh arrested
)
The two bookies - Sanjay and Pawan - had checked into a hotel arranged by the 49-year-old actor and went to the airport in his car, sources said. Sources say Vindoo was a "compulsive better" and must have bet in every game possible. Vindoo reportedly told the police he has won more than Rs. 17 lakh in betting, but has not received the money yet.
The actor, sources say, told the police that he got into betting through a friend, Anand, who used to be a bookie. The actor, however, also said "he is now a reformed man," say sources.
Vindoo has reportedly also told the police that he was in touch with the relative of an IPL franchise owner. Sources say the police are investigating multiple calls made by the actor to a Chennai number. The calls were made over a period of six months, say sources. (
Read more
)
His family, meanwhile, claims the actor is innocent. "My husband is innocent. He has done no wrong. He may have been friendly to some people but he is innocent. We do not even know what he has been blamed for. The Mumbai police have to say what he has done. We stand by him. He is a very decent man and well loved," Vindoo's wife Dina Umrova told NDTV today.