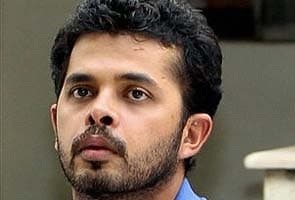 New Delhi:
Kerala pacer
Sreesanth
says he is innocent and his lawyers have argued that the police, who have based their investigations heavily on phone conversations that they intercepted, have furnished no transcript or recording that directly implicates the Test cricketer in the spot fixing scandal. (
Complete Coverage
)
But the Delhi Police allege now that they have new evidence - a conversation, they claim, between
Sreesanth
and his friend Jiju Janardhan, who is a bookie and has also been arrested. Police sources said the alleged conversation took place after
Sreesanth
had bowled his controversial over for the Rajasthan Royals in the match against the Kings XI Punjab on May 9.
Sreesanth, the police allege, had been contracted by bookies to give away 14 runs in the fixed over. With a towel tucked in his waistband that the police allege was a signal to bookies that he was bowling a fixed over, the pacer gave away 13 runs in the first five balls he bowled. On the sixth, they allege, he bowled a no-ball to add one more run. But the Umpire did not signal a no-ball and the total runs scored off that over remained at 13.
(A Sreesanth no-ball that the umpire didn't spot)
The police allege that a panicky Sreesanth then talked to Jiju, whose phone was being tapped, to check if the bookies would still pay up. Investigators are now awaiting a report on whether the voices in the conversation match the samples that Jiju and Sreesanth have had to give in custody.
Through his lawyers yesterday, Sreesanth said in a statement that he has never indulged in spot-fixing. "I have always played cricket in the spirit of the game," the actor added.
Police custody for Sreesanth, two other Rajasthan Royals players and 8 alleged bookies has been extended by five days, as the Delhi Police continue to interrogate them. Four other bookies have been sent to judicial custody for two weeks. They were arrested from cities across the country last week.
(Dramatis personae: In a spot for 'fixing' IPL matches)