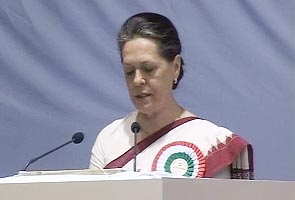 New Delhi:
Congress President Sonia Gandhi's official residence 10, Janpath has consumed electricity worth more than Rs 7 lakh in the last three years, a reply to an RTI has revealed.
Out of the total bill of Rs 7.47 lakh, the Lok Sabha Secretariat paid Rs 7.38 lakh while Gandhi herself paid about Rs 9000.
As per the RTI reply, received from the Lok Sabha Secretariat, 10 Janpath consumed a little over two lakh units of electricity between 2007-2009 for which the total bill was Rs 7.47 lakh, the RTI reply to Hissar resident Naresh Saini, said.
There is no amount due against the electricity head on the Congress President, the reply added.
The RTI response also said that Gandhi has not availed any MTNL landline or mobile facility and that no water connection has been provided in her name.
"Concerned division of this (Lok Sabha) Secretariat has informed quoting MTNL that as an MP, Sonia Gandhi has not availed any telephone/mobile facility from MTNL... It has further informed that no water connection has been provided in her name. The accommodation to Gandhi is of General Pool which is administered by the Directorate of Estates, Ministry of Urban Development.
"Further, this Secretariat does not keep expenditure details of security, travel and food in respect of Gandhi," the RTI reply said.
Get Breaking news, live coverage, and Latest News from India and around the world on NDTV.com. Catch all the Live TV action on NDTV 24x7 and NDTV India. Like us on Facebook or follow us on Twitter and Instagram for latest news and live news updates.