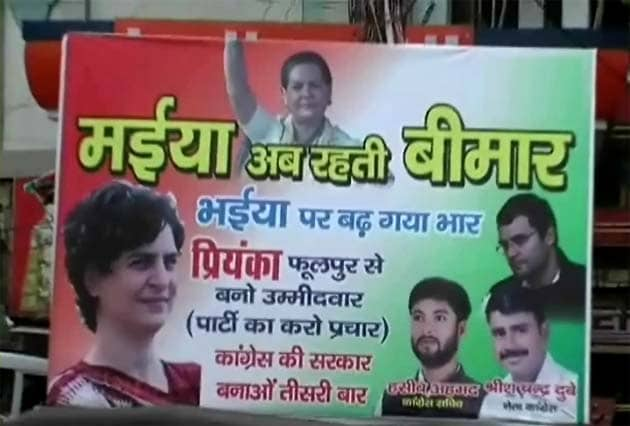 Lucknow:
The Congress in Uttar Pradesh has been embarrassed by a smattering of hoardings that declare party president Sonia Gandhi is unwell, and urge her daughter Priyanka to run for office from the constituency of Phoolpur, once represented by her great-grandfather and former Prime Minister Jawaharlal Nehru.
The hoardings that came up in the posh Civil Lines area of Lucknow on Tuesday have been pulled down.
They referred to Mrs Gandhi, who travels occasionally to the US for medical check-ups, her son Rahul who is Congress Vice-President and is leading the party's campaign for the national elections, and Priyanka, who has said in the past that she will campaign for the party but will not contest elections.
The text on the hoardings declares: "
Maiya ab Rahti Beemar, Bhaiya par badh gaya bhaar, Priyanka Phoolpur se bano ummedwaar, party ka karo prachaar, Congress ki sarkaar banao teesri baar
(Mother is often ill now, brother (Rahul Gandhi) is over burdened, Priyanka become the candidate from Phoolpur and campaign for the party, help the Congress get elected for the third time).
Mrs Gandhi, 66, underwent surgery in the United States for an undisclosed ailment in August 2011. Her party has not confirmed media reports that she was treated for cancer at New York's Sloan-Kettering Cancer Center. She last travelled to the US for a medical check-up in September.
In Lucknow, district secretary Haseeb Ahmad and party leader Shreesh Chandra Dubey have been suspended for going to town with the controversial hoardings.