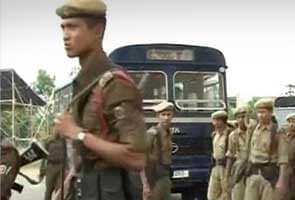 Guwahati:
More than 10,000 people braved a 12-hour ULFA bandh to attend the celebration of the Congress-led Tarun Gogoi government's completion of first year of its third term in office which was attended by UPA Chairperson Sonia Gandhi. Chief Minister Tarun Gogoi has led the Congress to three successive electoral victories in Assam but the question of his successor has sparked off tension among the next generation leaders. On her one-day visit Mrs Gandhi is meeting the party's state leadership. Sources have told NDTV that the main agenda on Mrs Gandhi's programme is to address the increasing factionalism within the Assam unit of the party.
In a public rally, Mrs Gandhi mentioned that she was happy that a lot of members of separatist groups had decided to surrender their arms. "The government is working for peace and order and it understands the needs of the people," she said.
"Most insurgent outfits have realised violence cannot solve any problem and have left this path for peace. The government will take all measures to establish peace and fulfill their aspirations," she said.
Prime Minister Manmohan Singh, who has represented Assam in Rajya Sabha for 20 years, takes a personal interest in its development and the Centre along with the state government has initiated several schemes specifically for the state.
She said four new bridges would be built on Brahmaputra river, which is the lifeline of the state and an integral part of its cultural identity. "There has been a marked improvement in the condition of roads while there has been increased investment in the power sector and eight lakh BPL families have been provided with electricity under Rajiv Gandhi Grameen Vidyutikaran Yojana", she said.
Several new schemes have been undertaken for empowering women like strengthening of self-help groups and under Panchayati Raj and reservation of 50 per cent seats for them.
As a part of the development of all sections of society including SC/STs, backward castes, indigenous communities, the government has set up eight autonomous councils and 18 development councils.
Mrs Gandhi appreciated the state government's initiative to provide computers to high-school students who secure first division.
There has also been considerable improvement in the industrial sector and the tea industry, in particular, has been given a new lease of life, she added. The UPA Chairperson congratulated the farmers of Assam for "creating history this year by recording highest rice production in the state by their hard work and labour".
ULFA's anti-talk faction called the bandh to protest against Gandhi's visit to the state and it evoked mixed response from the people. All shops, business establishments, financial and educational institutions remained closed and vehicular traffic was thin. All state government offices were closed as it was a holiday. Rail and flight services were, however, not affected.
Assam Pradesh Congress Committee (APCC) arranged for buses to transport party supporters from different parts of the state to attend the anniversary celebration at the Indira
Gandhi Stadium at Sarusajai.
The celebrations were held amidst tight security and no untoward incident was reported, official sources said.Yesterday, one person identified as a local businessman was killed in a bomb blast allegedly triggered by the ULFA in Tinsukia district. The bomb was planted at a roadside in Selabari area.