New Delhi:
Straight-talking historian Ram Guha today told NDTV that Smriti Irani, removed yesterday from the Ministry of Human Resources Development, was "a deadly combination of arrogance and ignorance".
Ms Irani's two-year tenure overseeing Education was replete with controversies, public hostile exchanges with opponents, large anti-government movements on campuses in the North and the South, and allegations that she was being used to "saffronise" the syllabus of schools and colleges on the orders of her party's ideological mentor, the Rashtriya Swayamsewak Sangh or RSS.
Professor Guha, who has taught at Yale and the London School of Economics, said that Ms Irani had done considerable damage to her ministry's credibility.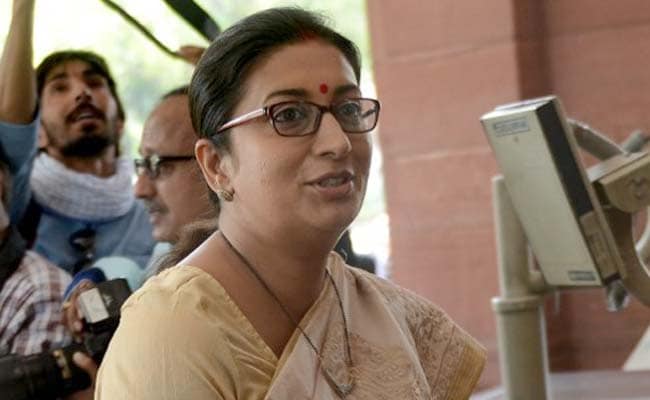 Professor Guha offered instances of how Ms Irani was high-handed with senior professors. "At one meeting, an IIT director asked her a question to which she said, 'Do you think you are a TV anchor to ask me such questions?'" the historian said, adding, "She also named the TV anchor!"
He said that the only reason he was able to criticise her without fear of persecution was because he is based in Bengaluru and earns a living writing books and columns.
Calling her "whimsical" with policies that changed frequently, Professor Guha said, "The academic community will welcome her exit." Her replacement, Prakash Javadekar, he said is "polite at least and respects scholars and scientists." However, the new minister must steer clear of being influenced by the RSS, Mr Guha stressed.
Ms Irani has been charged with rampantly misreading and mishandling the student unrest in Hyderabad, where Dalit student Rohith Vemula hanged himself, and at Delhi's Jawaharlal Nehru University or JNU, where Kanhaiya Kumar was infamously arrested on charges of sedition. Professor Guha said that Ms Irani failed to accept that campuses must be centres of questioning and discourse. "Both Hyderabad University and JNU have a first-rate science faculty, but she was against them because she thought they were communist campuses," he professed.
In her defense, Ms Irani's supporters point out her achievements in initiating the first-ever ranking of universities to help parents and students decide on where to study. Ms Irani also started an initiative to draw reputed foreign lecturers to Indian institutes.