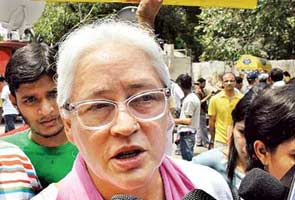 New Delhi:
This is one city that really needs an attitude change as far as treating women is concerned. But like everything else, the Rape Capital of India didn't bother about Slut Walk arthat Besharmi Morcha, a movement that took off in Toronto and fast spread to other parts of the world.
After Bhopal, which hosted the Slut Walk on July 17, it was Delhi's turn on Sunday. The Capital, however, disappointed. With not even 500 participants, the much awaited Besharmi Morcha came to an abrupt end on Sunday.
The march started at 10.30am, with participants raising slogans such as 'Walk of no shame', 'Stop staring, women are not aliens from Venus', 'Change your thinking not your clothes' and others. Drum beats, celebrity bytes, aggressive slogans, a street play, some foreigners and participants in the form of media personnel summed up the not-so-hectic Sunday.

Usual suspects
Not many known faces turned up for the event, but there was Nafisa Ali. "Basically, we need to work towards the safety of women on streets. It's an issue of mindset. If a boy can go out at two in the morning, so can a girl," she said.
To ensure that no untoward incident took place, police personnel were deployed all around the area. "No one can ever be safe in Delhi. When we leave our homes, even we are not sure whether we will return safely or not," said a police constable on the condition of anonymity.
Asmita theatre members contributed by putting up a play focussed on women. Vartika, a theatre member, said, "Aath baje tak ghar aana hota hai, that is what safety, means to me." "I believe Delhi is more conservative than Bhopal. People are more close-minded here. Delhi is a diverse city after all," said 18-year-old Pulkit.
Vinshul, a student of Amity University, said, "I am all for it, my friends are not. The problem is people misinterpreted the way the term 'slut' has been used in this context." "It's very hard to live in a city like Delhi. People don't even shy away from touching girls at inappropriate places and one can't do anything about it," said Ishani, student, DU. Even foreigners had a lot to say about the issue. "I have been here for the last two weeks and have been strictly warned against going out during night," said Belinda Heischmann from Switzerland.
'Disappointing'
Summing up the dismal event after all the hoopla, the march did not have the intended effect on the men of the city. Sidharth Arora, a businessman, said, "No matter how many walks you conduct, the girls can never walk freely. It is true that they invite rapists by dressing provocatively."
"Many boys are deprived of so many rights. Is there anyone who speaks up from them?" asked another DU student Rahul.
One of the organisers Trishala Singh, however, refused to be bogged down by all this. She said, "I am not at all disappointed with the walk. A good number of people turned up to support the cause and I am happy with it. I know one walk can't change the mindset of people but it will at least be a beginning."