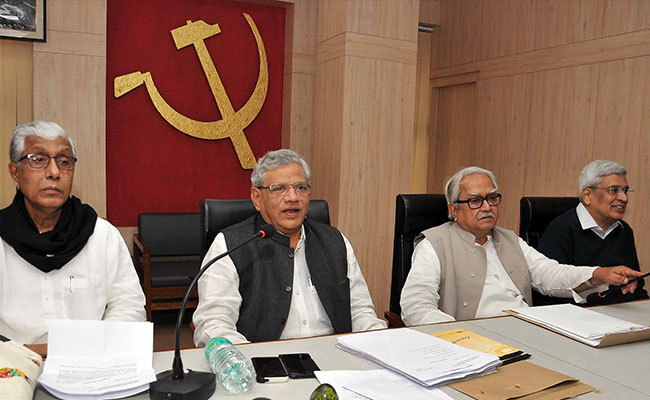 New Delhi:
Sitaram Yechury - who scored a crucial point as the CPM endorsed his position on an electoral understanding with the Congress -- has been unanimously re-elected as the party's general secretary. The election of the 65-year-old -- approved by the party's newly-elected 95-member central committee -- took place at the once-in-three-years meeting in Hyderabad.
Mr Yechury had had taken over as general secretary from Prakash Karat in the 21st party congress, which was held in Visakhapatnam, in 2015. His leadership is now considered crucial as the CPM finds itself at a record low following the loss in the recent assembly elections in Tripura. The party lost Bengal to Mamata Banerjee two terms ago and currently controls only Kerala.
Mr Yechury's proposal for joining forces with the Congress in the battle against the BJP was shot down by his party in January. But the draft political resolution was tweaked following a voting yesterday, leaving the door open for an electoral understanding with the Congress to oust the BJP.
Mr Karat was against any association with the Congress and the rest of the party was split down the middle on the issue. The differences were so sharp that both the draft political resolution and the contrary view had to be presented at the party congress.
In view of the tussle between Mr Yechury and Mr Karat over the political line, the party's political organizational report today said there was a need to improve the level of cohesion among the politburo members at the centre.
"We have a culture which encourages discussions and debates but certainly that should not lead to any organisational fallout. The politburo members had also been directed to ensure that they do not indulge in loose talk," politburo member Brinda Karat was quoted as saying by news agency Press Trust of India.
Last week, seven opposition parties came together to move for the impeachment of Chief Justice of India Dipak Misra, on which Mr Yechury had initiated the task of consensus-building in January. The Congress, which initially was not inclined to take the impeachment route, came to become one of the key movers on the issue.