Malda:
The wail of the women at Mohammad Afrajul's village in West Bengal's Malda seemed drowned out by the memory of the piteous bleating of the 50-year-old road construction labour who was hacked to death and then burnt on video in Rajasthan.
Saiydpur village in Kaliachak, 25 km from Malda town, is dumbstruck by the horror of it all.
Like thousands of men from Malda district in West Bengal, Afrajul had made good in Rajasthan over the last 20 years or so, working at road repair and construction sites. He sent back money to his family regularly and came home for every festival.
Yesterday, he had called his wife in the afternoon and told her to go to the bank and wait. "I am transferring 50,000 rupees," he told her, saying she must confirm the money was indeed transferred. Wife Gurfar Bibi dutifully went and waited and waited. When no money came, she called, somewhat impatiently. And was told Afrajul was dead and how. She is barely coherent now.
The three daughters - Jasmeera, Regina and 16-year-old Habiba - are completely disbelieving of the love jihad charge that has cost Afrajul his life.
"We demand justice from the government, we want the government to punish the man who killed my father. We want that man to be hanged. If the government fails to do it, the blame will be on them forever," said Regina Khatoon.
Regina's husband works in Rajasthan at the same place as her father. So does her uncle, her father's brother.
"They have lied, that he was involved with some woman. Those are false claims. My husband was there, wouldn't he have come and told me? My uncle was there, wouldn't he have come and told my mother that your husband is doing all these things? Never have they said any such thing," she said.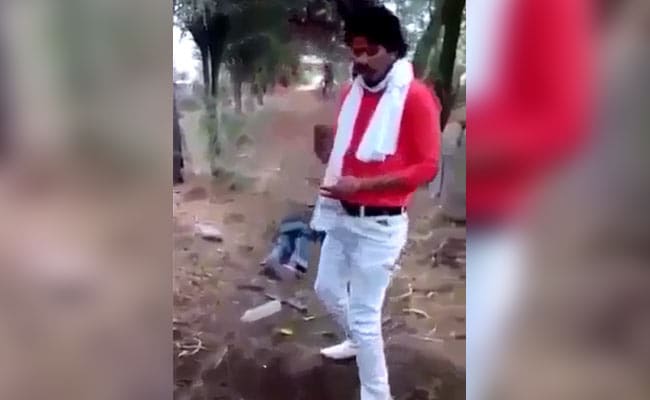 In a stomach-turning video that is viral, a man named Shambhu Lal in Rajasthan hacked Mohammad Afrajul to death and burnt the body while keeping up an inflammatory communal rant against "love jihad", the term used by right-wing groups who accuse Muslim men of drawing Hindu women into relationships and converting them.
Chief minister Mamata Banerjee tweeted, "How can people be so inhuman? Sad."
Home Minister Rajnath Singh, in Kolkata today for a meeting with several chief ministers, sidestepped a question at a press conference on the Rajasthan horror.
"Rajnath ji. An incident occurred in Rajasthan. A muslim youth of West Bengal has been killed brutally due to, a result of love jihad. What is your reaction?" he was asked.
Rajnath Singh appears not to understand the question. He looks at Mamata Banerjee who covers her mouth and whispers to him.
"Now this is a political question.....Thank you very much," he replied.
Malda police is on alert in case tensions erupt, especially when Afrajul's body is brought home.
The date is yet unknown.
Get Breaking news, live coverage, and Latest News from India and around the world on NDTV.com. Catch all the Live TV action on NDTV 24x7 and NDTV India. Like us on Facebook or follow us on Twitter and Instagram for latest news and live news updates.