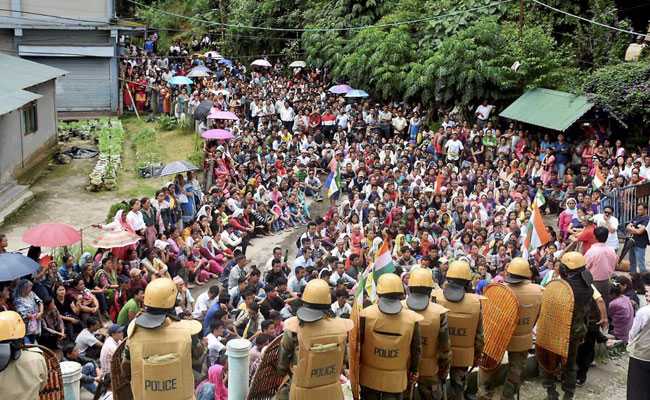 Sikkim:
Sikkim is considering suing the West Bengal government at the Supreme Court, alleging heavy loss of revenue because of the agitation in the neighbouring state for a separate Gorkhaland.
Sources say the Sikkim government assesses it has lost around Rs 60,000 crore over the past 32 years because of the agitation for a new state of "Gorkhaland" to be carved out of West Bengal.
The development comes in the middle of a standoff next to Sikkim - which borders China - after Chinese troops tried to build a road near the India, China, Bhutan tri-junction last month.
Sikkim's Chief Minister Pawan Chamling said yesterday: "The people of Sikkim did not merge the state with the Indian union to become a sandwich between China and Bengal."
He was condemning attacks on vehicles from Sikkim on the highway over the past two days. The attacks started after his letter to Home Minister Rajnath Singh calling a separate Gorkhaland a "justified long-pending demand" of the people of the Darjeeling hills.
Blockades due to the agitation by Gorkha groups have impacted Sikkim because is connected to two highways that pass through the north Bengal hills. Mr Chamling said his state's development had been hit for three decades because of the protests and blockades, and tourism had also been affected.
He urged people not to panic over any talk of scarcity of food and essential commodities because of the blockades.
The decades-old demand for a Gorkhaland saw a fresh burst of violence recently in Bengal over fears that the state government was imposing a Bengali-only rule on schools in Darjeeling - where the majority of the population speaks Nepali.
Bengal Chief Minister Mamata Banerjee cracked down on the protests. She is currently firefighting on multiple fronts with communal violence in many areas near Kolkata over a Facebook post and a feud with Governor Keshari Nath Tripathi, whom she accused of acting like a "BJP block level worker".